Visiting the Library Reading Room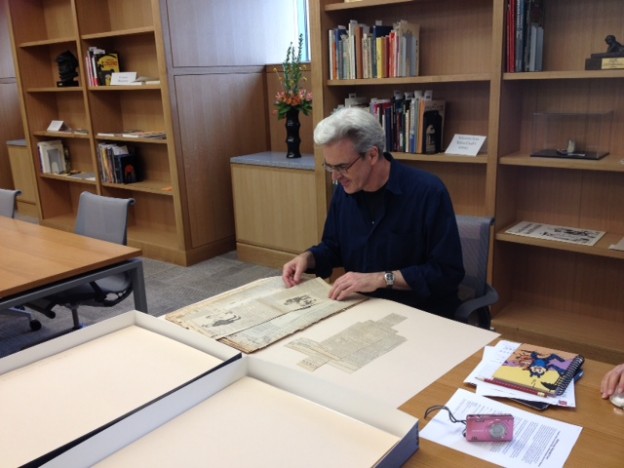 Lucy Shelton Caswell Reading Room at the Billy Ireland Cartoon Library & Museum
The Billy Ireland Cartoon Library & Museum is part of The Ohio State University Libraries Special Collections.  The Lucy Shelton Caswell reading room is used primarily for individual research and for use of the library collections.
If you are interested in bringing in your college class to use collection materials, please check out Scheduling a College Class Visit.
Before your Visit
Researchers are encouraged to make appointments in advance prior to visiting the library in order to guarantee reading room availability.  Appointments may be required during university breaks. Please check Library Hours for updated hours and for closings.
Find Us
We are located on The Ohio State University Main Columbus Campus.  Information about parking, accommodations, and our location can be found on our Visit Us page.
Make an appointment & Send us a Request List
Appointments in general are strongly encouraged as some materials are stored off-site and require a 48-hour notice to pull; some materials require significant time to retrieve; and the reading room may be closed periodically for classes.  To make an appointment, email us cartoons@osu.edu.
To find items relevant to your research, see our Collections page.  Prepare a list of items you would like to view during your visit by sending us a request list to our email address: cartoons@osu.edu. In the list, be sure to include important details about the item so we are sure to prepare the correct item.  We recommend using our Materials Request Form Guide which walks you through how to find the necessary information.
Review Reading Room Policies
To prepare for your visit, please review our Reading Room Policies.  These policies are in place to preserve and protect collection materials.  For additional information on why these Special Collections policies are in place, please review this brief guide to Special Collections policies.
Consult with Library staff 
If you have questions regarding your research, or if you need help finding materials, we recommend consulting with library staff in advance.  Please contact us at cartoons@osu.edu.
Day of your Visit
We are located in Sullivant Hall, on the North side of the building, on the first floor.  The reading room will be to your right.
Arrival & Sign-in
When you arrive, you will be asked to sign the reading room logbook.
Complete Patron Application
You will then be asked to fill out a Special Collections Research Application if you have not done so within the current calendar year. The front desk attendant will ask to see a form of photo ID.
Store Belongings and Set-up
We will ask that you place all personal belongings in the lockers provided (located just outside the library doors). All food and drink must be disposed of outside of the library.
We request that you begin your research with clean hands.  Restrooms are located on the second floor.
While you conduct your research, you may have paper and pencils, or a laptop computer at the table with you. No other materials will be permitted.  There are a limited number of electrical outlets in the reading room, so you may wish to bring a fully charged laptop. As a precaution to protect library materials, pens may not be used for note-taking during research.
Using materials
You are permitted one item at a time.  As you finish with each item, you may return it at the front desk in exchange for another. If you would like to page additional items, there are request forms at the front desk. Once you have filled out the form, a library staff member will bring you the requested materials.
Computer Access
A computer is available for researchers in the reading room.  Please sign our computer log in order to use the reading room computer.
Wireless access is available through WiFi@OSU.  Instructions for setting up access can be found through our OCIO Department.
Reproductions
If you plan to request photocopies or digital scans, you will be asked to mark items for reproduction with streamers and compile a corresponding list of the items to be reproduced.  Please supply the library staff with this list.  All photocopies will be completed by library staff.
The material used by the researcher may be protected by copyright law (Title 17 U.S. Code).
Photocopy Reproductions
To request photocopies, you will be asked to mark items for reproduction with placeholders and to compile a corresponding list of the items to be reproduced.  Photocopy Request Forms will be available at the front desk.
If you would like photocopies from a folder of loose pages, please leave the items in their original order, and use the placeholders to distinguish the locations of your requests.
Photocopies for on-site patrons will require a 24-hour turnaround, and all copies will be stamped with a COPY stamp. Fragile items or items larger than 28 x 43 cm (11 x 17 inches) cannot be copied; however, these items may be considered for digital imaging. For information about fees and shipping for photocopies, please see Research & Reproductions.
Digital Imaging and Digital Reproductions
If you plan to take photographs with a camera, you will need to request permission in advance as same day approval may not be possible.  If permission is granted, you will be asked to complete the Camera Use Form. To request permission, please send us an email at cartoons@osu.edu.
If you would like to request high resolution scans, please review the Research & Reproduction policies and fees, then complete the Digital Reproduction Order Form and send the form to cartoons@osu.edu.
Wrapping up
When you have completed researching for the day, please inform the library attendant if you will be returning to continue researching so that your items will be kept on the hold shelf or on a book truck until your next visit.  You will be asked to sign out of the reading room log book.