Alanson Burton Walker was a very successful magazine cartoonist working in the early 20th century. His work was in high demand and he drew for all the important magazines of the time where he created gentle, wry cartoons on issues of the day.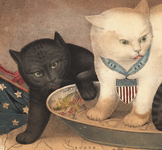 This exhibition, which highlights the Billy Ireland Cartoon Library & Museum's growing collection of 19th century prints, presents both sides of the conflict of the American Civil War. Most of the work represents the views of Union supporters, and only one cartoonist, Adelbert Volck, published works favoring of the Confederate States of America, of which examples of his etchings are included.

Anne Mergen's editorial cartoons chronicle history from the Great Depression through the Cold War. In 1933, she was the only woman editorial cartoonist in the United States, a status that continued until her retirement in 1956. She continued to have cartoons published as late as June 1961.
For more than six decades, Edwina Frances Dumm worked as a professional cartoonist. Beginning as a political cartoonist on the staff of the Columbus Daily Monitor, Edwina paved the way as the first woman employed in a full time position as editorial cartoonist.
The Hale Scrapbook (so designated by historian and collector Draper Hill, from whom it was acquired) dates from approximately 1746 to 1830 and includes engravings by the leading artists of Georgian England, letters, newspaper clippings, woodcuts, broadsides, sketches, paintings, and other miscellaneous materials.

Light was by far the most important of lithographic comic weekly to be published outside of New York or San Francisco during the last quarter of the 19th century. It provided the first or early employment to a host of talented cartoonists, illustrators, and at least one writer who would later go on to successful careers.

The Lindsay scrapbook contains fifty-two full color chromolithographs – caricatures of London celebrities, politicians, and royalty – that were all executed by the well-known French artist "Faustin" (Faustin Betbeder) and appeared in the London Figaro.

Milton Caniff changed the history of the American comic strip. He was expert in both the artistic and literary aspects of the medium. The education he received at Ohio State University matured into the "every wrinkle must show" graphic style for which he became famous.

Sam Milai was an artist and cartoonist for the Pittsburgh Courier for 33 years. He won the National Newspaper Publisher's Association Russwurn trophy for the best cartoon 8 times during his career. Milai also created a feature titled Facts about the Negro that celebrated the accomplishments of people of color.