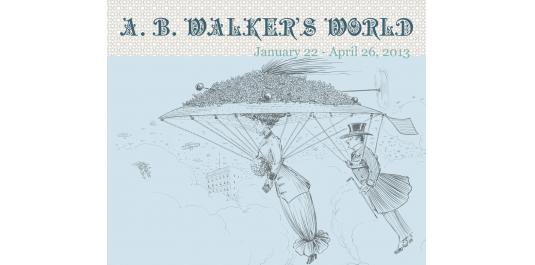 Dates/Times
January 22, 2013 - April 26, 2013

Location
Reading Room Gallery
27 W. 17th Avenue Mall
Columbus Ohio
Alanson Burton Walker was a very successful magazine cartoonist working at the beginning of 20th century.  His work was much in demand and he drew for all the important magazines of the time–Life, Harper's, Atlantic Monthly, Saturday Evening Post, Judge and Collier's–where he created gentle, wry cartoons on issues of the day.
Walker was born in Binghampton, New York on November 19, 1878, attended Buffalo Central High School, and later Rochester University from which he graduated in 1897. He spent the next four years taking classes at the Art Students League in New York, studying under Frank Vincent DuMond.  His brother William H. Walker, also a cartoonist, became the chief editorial cartoonist for Life at the end of the 1890s.  Both brothers lived and worked in Flushing, New York.  A. B. Walker died of a heart attack while shoveling snow on January 22, 1947.
Most of the work on display dates from 1909-1913 and was created by Walker while he was in his early thirties.  All were drawn for Harper's Magazine and focus on topics of the time:  changes in transportation (automobiles and aeronautics); observations on women and women's suffrage; and love and marriage.  Walker's work captures the preoccupations of early 20th century life with wit and charm.  His cartoons, with their fluid lines and gentle humor, remain as pleasing to us today as they were to the audience he created them for a century ago.
These cartoons form part of the International Museum of Cartoon Art Collection and were donated by A. B. Walker's son and his wife, Keith and Mary Lou Walker.
Curated by Lucy Shelton Caswell, Professor Emerita, The Ohio State University Billy Ireland Cartoon Library & Museum and Ann Lennon, Project Registrar, International Museum of Cartoon Art Collection.