A Tale of the Jungle Imps by Felix Fiddle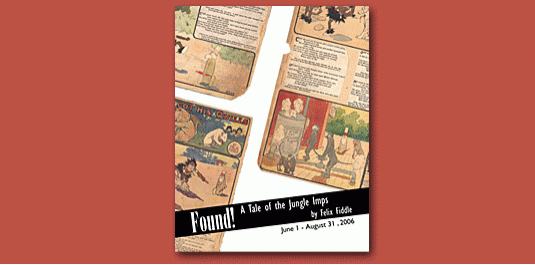 Dates/Times
June 1, 2006 - August 31, 2006

Location
Reading Room Gallery
27 W. 17th Avenue Mall
Columbus Ohio
It was an Antiques Roadshow experience: In early January, a stranger called The Ohio State University Cartoon Research Library to say that she had found some old cartoons tucked in a stack of boxes that had been sitting in her family's business for decades. She wanted to know if they were valuable. Lucy Shelton Caswell, Professor and Curator of the library, was skeptical since she often receives calls from people who have found items in grandma's attic that end up having only sentimental value. The caller was insistent however, and said she was near to campus and would like to bring her find to the library for Caswell to see. An appointment was made for the next afternoon. The caller arrived with a battered cardboard folio. When it was opened, Caswell knew that this time a treasure had been uncovered. Inside were original, hand-colored drawings from Winsor McCay's first comic strip,A Tale of the Jungle Imps by Felix Fiddle. Up to that moment, no original drawings of the strip were known to exist.
Best known for his comic strip Little Nemo in Slumberland, McCay has been described variously as "the first authentic genius in the comic strip medium," "one of American's rare, great fantasists," and a cartoonist for whom there has been "no equal before or since." During the 1890s McCay worked as an artist for the Vine Street Dime Museum and Palace Theater in Cincinnati. In 1900 he joined the staff of the Cincinnati Enquirer as an artist/reporter. In 1903 he created forty-three episodes of A Tale of the Jungle Imps by Felix Fiddle , illustrated stories about pixies and the imaginary animals they encounter that were printed full-page in color. McCay's biographer John Canemaker notes the importance of this "proto-comic strip" for McCay: "Tales of the Jungle Imps was Winsor McCay's first attempt in an extended series format to bring together all of his eclectic talents in a cohesive graphic style. On each page, he found fresh ways to combine his exquisite draftsmanship, dynamic staging, sense of caricature, mastery of perspective, and feeling for motion with his version of the decorative art nouveau style." Until January 2006 none of the original drawings created by McCay had been seen for more than a century.
The Ohio State University Cartoon Research Library acquired five of the original hand-colored drawings from their finder: "How the Turtle Got His Shell," "How the Quillypig Got His Quills," "How the Rhinoceros Lost His Beauty," "How the Hound Got So Thin," and "Fourth of July in the Jungle." "It's remarkable that these originals would turn up in Columbus, Ohio which is the only city in the country with an academic library devoted to cartoons," said Caswell. "We're delighted that the family who found these important works understood that some of them belonged in an institution where they would be preserved and protected while also being made accessible to scholars, researchers and students." The finder has asked to remain anonymous.
The works have undergone conservation treatment and will be exhibited to the public in the Cartoon Research Library's Reading Room Gallery June 1 – August 31, 2006, with a digital album of the strips forthcoming on the library's web site https://cartoons.osu.edu/.