EVENT POSTPONED – An Afternoon with Raphaëlle Macaron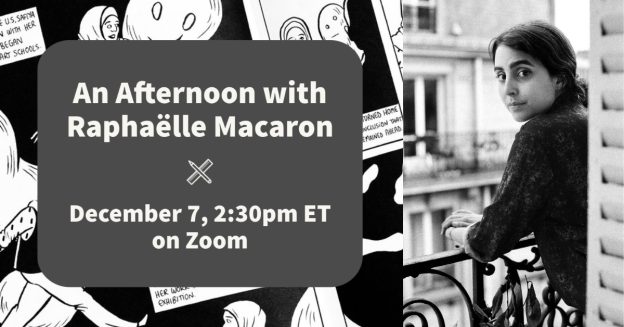 Dates/Times
December 7, 2021
2:30 pm - 3:30 pm
***This event has been postponed until Spring 2022. New date TBA. Thank you for your interest and understanding!***
Join the Billy Ireland Cartoon Library & Museum for a virtual event with Paris-based Lebanese illustrator and comic book author, Raphaelle Macaron.
Raphaëlle Macaron was born and raised in Beirut, Lebanon, where she undertook her studies in illustration and comics. Since 2012, she has worked as a freelance illustrator and designer. In 2020, she published her first graphic novel, Les Terrestres, a non-fiction work that depicts her conversation and travels with French environmentalist journalist and politician Noël Mamère as they visit sites and political collectives important in the history and ongoing environmentalist struggles in France. The narrative is dynamized not only by the dialogue between the much older environmentalist and the young artist but complicated by the eruption of the COVID-19. A central question of the text is how one maintains hope and perspective, in the light of potential wide-spread collapse, questions that are immediately explored by the pair within the context of France, but that Macaron juxtaposes with her Lebanese hometown and its ongoing social and political history. In conversation with Prof. Maggie Flinn, of the Department of French and Italian, Macaron will discuss her work on Les Terrestres, current book project, as well as how her training and work as an illustrator and graphic designer interact with and inform her long-form graphic narrative style.
This event is FREE and will be presented online via Zoom. The conversation will be in English, and this event will be recorded. This program is co-sponsored by The Ohio State University Department of French and Italian and is made possible by a generous gift from Engie-Axium.
This virtual program will include automated captioning. If you require an accommodation such as live captioning or interpretation to participate in this event, please email libevents@osu.edu as soon as possible. Requests made at least one week prior to the event will generally allow us to provide seamless access, but the university will make every effort to meet requests made after this date.