Anne Mergen: Editorial Cartoonist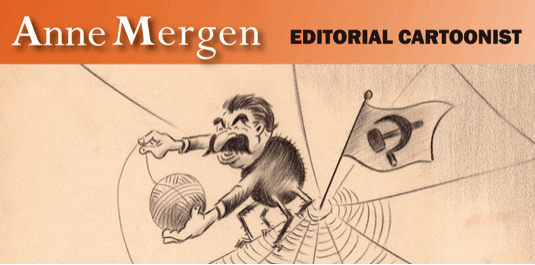 Dates/Times
February 1, 2008 - April 11, 2008

Location
Reading Room Gallery
27 W. 17th Avenue Mall
Columbus Ohio
Anne Mergen's editorial cartoons chronicle history from the Great Depression through the Cold War. During that time, she was the only woman in the nation working as an editorial cartoonist.
Mergen was born in Omaha, Nebraska, in 1906. She studied commercial art in Chicago before moving to Miami in the mid 1920s to work as a fashion advertising artist for a local department store. When the Miami Daily News, part of the Cox newspaper chain, hired her as its editorial cartoonist in 1933, she was the only woman editorial cartoonist in the United States, a status that continued until her retirement in 1956. She continued to have cartoons published as late as 1959.
She had a home studio and all of the contemporary press coverage about her career celebrates the fact that she drew her editorial cartoons only after fulfilling her duties as wife and mother to two children. In addition to being published in the Miami Daily News, her cartoons were published in other Cox newspapers including the Atlanta Journal and the Dayton News.
The editorial cartoons in this exhibit range from Mergen's take on Goebbels' propaganda to the advent of nuclear power. She was a thoughtful commentator on the events of her time and her work merits wider recognition.
Anne Mergen died in 1994. The cartoons in this exhibition were donated to the Cartoon Research Library by her grandchildren, Matthew Bernhardt and Christine Hoverman. The Anne Mergen Collection at the Cartoon Research Library contains almost 600 original editorial cartoons documenting her work.