Arnold Roth | Free Lance: A Fifty Year Retrospective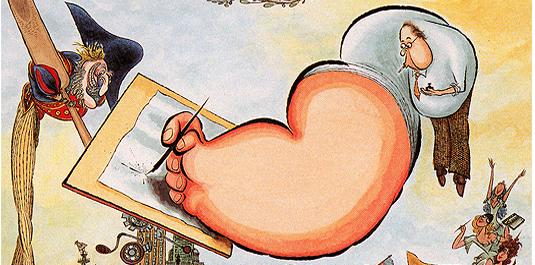 Dates/Times
February 15, 2002 - May 17, 2002

Location
Reading Room Gallery
27 W. 17th Avenue Mall
Columbus Ohio
Arnold Roth: Free Lance celebrates the fun that Roth has had–and has shared with us–for more than fifty years. He knows what he wants to draw and enjoys doing it. His hand is sure and facile as it moves to create images that capture their viewer's imagination, pictures that seem already to be completed in his mind and flow onto the page. His sens of color is subtle, adding to the drawing but never overwhelming its lines. His bravura control of watercolor, breathtaking.
Cartoonists do no create their art with the expectation that it will be exhibited in its original form. The cartoon is working art: it is created to be reproduced. Because of this, cartoons have generally not been treated as "art" either by those who create them or by editors and printers who transform them into their published versions. Marginal notes and stickers, such as registration marks for color separations, are common on original cartoons. Sometimes work is cut apart and glued onto different paper in an alternative format. Occasionally corrections made with white-out are visible.
While Arnold Roth's original art has all of the editorial makers and stickers common to most original cartoons, it is uncommonly clean and has very little evidence of correction or redrawing. Unlike many artists of his generation, Roth was successful in having his original work returned to him by the editors and publishers who commissioned it. The final selection for this exhibition was guided by an effort to document the breadth and scope of Arnold Roth's freelance career as completely as possible.
Roth's work must be read carefully, not simply "looked at." It requires the active participation of the viewer to catch the subtleties which are, in fact, the heart of his work. Arnold Roth: Free Lance is a celebration of many things: an outstanding talent, a long and remarkable career, success and many honors; but most of all, it is a celebration of the joy of making art and the pleasure it brings to others.
Co-sponsors of the exhibition are The Ohio State University Cartoon Research Library and University of the Arts, where it opened in Philadelphia in the fall of 2001. In 2002 and 2003 it will travel to San Francisco, New York, London, and Basel.