Billy Ireland $2 Book Sale!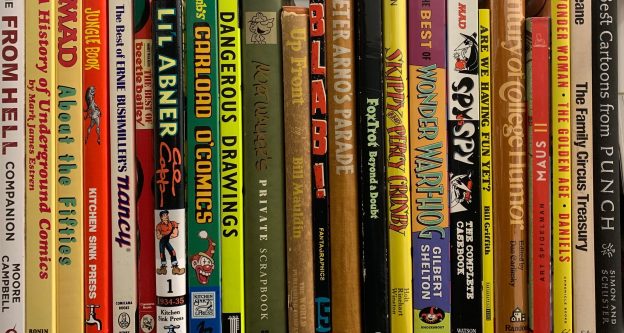 Dates/Times
August 29, 2019
4:00 pm - 7:00 pm
Location
Billy Ireland Cartoon Library & Museum
Sullivant Hall, 1813 N. High St.
Columbus OH 43210
Thank you to everyone for supporting us and making this event a great success!
To ring in the back-to-school season, the Billy Ireland Cartoon Library & Museum is holding a $2 book sale blow out! EVERYTHING IS $2 AND EVERYTHING MUST GO!
Hundreds of duplicate items from our collection will be available for the public to purchase. We will be accepting both cash and credit card, and all proceeds will be used to help process our collections. Don't miss out!
Included in the sale will be:
Graphic novels
Underground comix
Comic books
Comic strip reprint books
Humor magazines
Bundled comic strip clippings (new feature!)
Comic and art history books
…and much, much more, all for $2 per item!
Please plan to bring a bag or box for carrying home your great finds!
The event will take place in the North lobby of Sullivant Hall. For more information about our location and parking, please see Visit Us.