Comics and Cognitive Science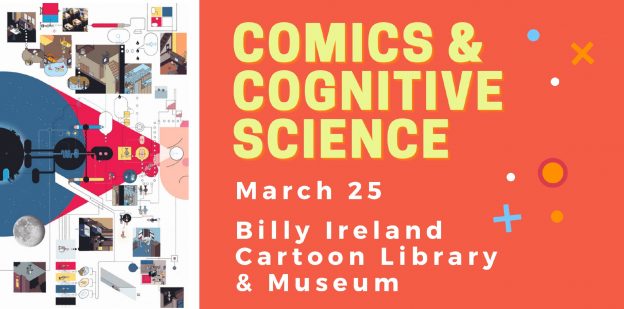 Dates/Times
March 25, 2023
2:00 pm - 5:30 pm
Location
Billy Ireland Cartoon Library & Museum
Sullivant Hall, 1813 N. High St.
Columbus OH 43210
Presenting Comics and Cognitive Science on Saturday, March 25, 2023, at the Billy Ireland Cartoon Library & Museum.
Comics Open House | 2–3 pm
Lucy Shelton Caswell Reading Room, Sullivant Hall 100
Guests are invited to attend an exclusive Comics Open House from 2-3 pm in the Lucy Shelton Caswell Reading Room. The Billy Ireland Cartoon Library & Museum will feature a curated collection of comics showcasing cognition and human perception. Guests may also browse the Museum's current exhibits (learn more here).
The Experts | 3–5:30 pm
Jean & Charles Schulz Lecture Hall, Sullivant Hall 220
From 3-5:30 pm, guests will learn from the experts! Dr. Neil Cohn will discuss his unique research on the cognition of comics and language. Then, Dr. Cohn and Chris Ware will sit down for a compelling conversation about their shared passion and exciting history with comics. The audience will have numerous opportunities to ask questions to both presenters during the event.
Comics and Cognitive Science is a free, public event. Registration is required to attend. Register at https://osu.az1.qualtrics.com/jfe/form/SV_7ZLlAca9RsNxif4
This event will be livestreamed, but not recorded. Please click here to join the livestream at 3pm ET on March 25, 2023. 
Chris Ware
Award Winning American Cartoonist and Author
Chris Ware is the author of "Jimmy Corrigan – the Smartest Kid on Earth," which won the Guardian Prize in 2001, and "Building Stories," which was chosen as a Top Ten Fiction Book by both The New York Times and Time Magazine in 2012. A regular contributor of comic strips and over thirty covers to the New Yorker, his work has been exhibited at the Hammer Museum Los Angeles, the MCA Chicago, and the Whitney Museum of American Art, as well as in regular exhibitions at the Adam Baumgold Gallery in New York and the Galerie Martel in Paris. The focus of the PBS program "Art in the 21st Century" in late 2016, an eponymous art monograph of his work was also released by Rizzoli in 2017. "Rusty Brown, Part I" was published in 2019 and selected as one of the Best 100 Books of the Year by the New York Times. A solo retrospective of his work was presented at the Centre Pompidou in 2022 and will move to the Cartoon Museum in Basel, Switzerland, in July 2023.
Neil Cohn
Associate Professor, Department of Cognition and Communication at Tilburg University, The Netherlands
Dr. Neil Cohn is an American cognitive scientist best known for his pioneering research on the cognition of comics and language. He has drawn 2 graphic novels, and written over 90 academic papers and 3 academic books, including the 2021 Eisner-nominated Who Understands Comics? (2020). His work can be found on Twitter at @visual_linguist, and online at www.visuallanguagelab.com.
Eisner Award Nominated book: Who Understands Comics
About CogFest
Comics and Cognitive Science is part of the Center's annual CogFest programming. CogFest gathers inquisitive minds from across the Ohio State University and beyond to discuss ongoing research in the cognitive science field. Bringing together the real-life application of cognitive science, expert speakers, and current research, CogFest aims to excite experts and non-experts alike.
Every Spring, CogFest features an event to engage the community outside of OSU. Guests are treated to a discussion by leading experts in relevant fields to analyze the cognitive science themes underlying their favorite media, films, and art. CogFest uses the real-life application of cognitive science to connect CCBS with a wide-ranging audience and inspire anyone to take an interest in the field.
If you require an accommodation such as live captioning, interpretation, or wheelchair access to participate in this event, please notify us during registration. Requests made at least one week prior to the event will generally allow us to provide seamless access, but the university will make every effort to meet requests made after this date.
Register at https://osu.az1.qualtrics.com/jfe/form/SV_7ZLlAca9RsNxif4