Curator's Talks: David Filipi and Caitlin McGurk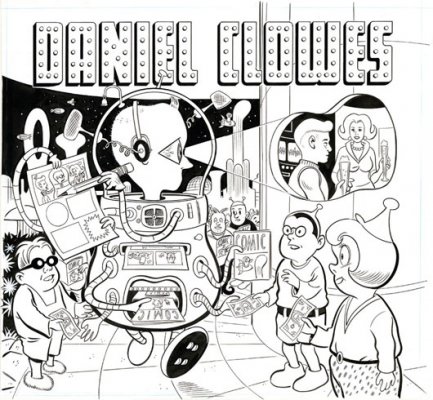 Dates/Times
June 12, 2014
6:00 pm - 7:00 pm
Location
Wexner Center for the Arts
1871 N. High Street
Columbus Ohio 43210
Image: Daniel Clowes, Exhibition poster, 1999
Dive deeper into the world of Daniel Clowes through these curator-led gallery talks of the exhibitions Modern Cartoonist: The Art of Daniel Clowes and Eye of the Cartoonist: Daniel Clowes's Selections from Comics History, on view at the Wexner Center for the Arts from May 17 – August 3, 2014.
Wexner Center Director of Film/Video David Filipi, in-house curator of both exhibitions, and Caitlin McGurk from the Billy Ireland Cartoon Library & Museum, will share their insights.  Please meet at the gallery entrance. Stay afterward for the 7:00 pm screening of Art School Confidential, an adaptation of a Clowes comic.
David Filipi is the Wexner Center's Director of Film/Video. In addition to his extensive work organizing film series and retrospectives of established and emerging filmmakers, Filipi has taught animation history for Ohio State's Film Studies Program since 2004 and is a member of Ohio State's Billy Ireland Cartoon Library & Museum advisory board. In the summer of 2008, Filipi co-curated Jeff Smith: Bone and Beyond—the first exhibition devoted to the famed comic book artist—which received national acclaim and coverage by such media outlets as PBS's NewsHour with Jim Lehrer. In 2013, he curated Fantastic! The Comic Art of Sandy Plunkett for Ohio University's Kennedy Museum of Art in Athens, OH. He received his master's degree in film studies from the University of Wisconsin-Madison.
Caitlin McGurk is the Billy Ireland Cartoon Library & Museum's Engagement Coordinator and works to cultivate and raise awareness of the library's collection among students, comics communities, and the greater public. It is a mission she tackles with pleasure, sharing the treasures of the collection through social networking, classroom instruction and workshops, building relationships with contemporary cartoonists, and giving presentations at conferences and conventions. McGurk has also worked for the Center for Cartoon Studies' Schulz Library, the Bulliet Comics Collection of Columbia University, and Marvel Comics. She has also written for Diamond Comics'Bookshelf magazine for educators and librarians, published her own comics, and remains active in the comics community at large.