Curator's Talks: Jenny Robb and Jared Gardner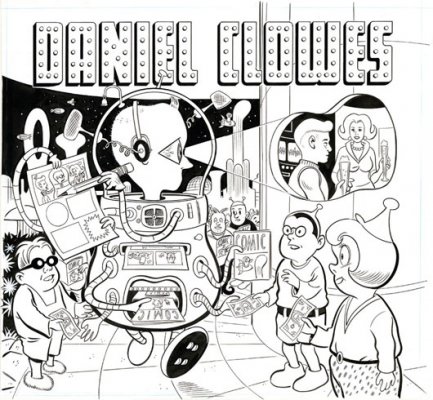 Dates/Times
June 19, 2014
7:00 pm - 8:00 pm
Location
Wexner Center for the Arts
1871 N. High Street
Columbus Ohio 43210
Image: Daniel Clowes, Exhibition poster, 1999
Dive deeper into the world of Daniel Clowes through these curator-led gallery talks of the exhibitions Modern Cartoonist: The Art of Daniel Clowes and Eye of the Cartoonist: Daniel Clowes's Selections from Comics History, on view at the Wexner Center for the Arts from May 17 – August 3, 2014.
On June 19, Jenny Robb, Curator of the Billy Ireland Cartoon Library & Museum, and Jared Gardner, Director of Ohio State's Popular Culture Studies program, discuss the exhibitions. Please meet at the gallery entrance.
Jenny Robb is curator and associate professor of Ohio State's Billy Ireland Cartoon Library & Museum, the largest academic research institution dedicated to cartoons and comics. Before coming to Ohio State in 2005, she served as curator of the Cartoon Art Museum in San Francisco for 5 years. Robb holds master's degrees in history and museum studies from Syracuse University. She is the author of several comics-related articles including "Bill Blackbeard: the Collector Who Rescued the Comics" in the Journal of American Culture and "From the Periodical Archives: Winsor McCay, George Randolph Chester, and the Tale of the Jungle Imps," published in American Periodicals: A Journal of History, Criticism, & Bibliography. She has also curated numerous cartoon and comics exhibitions.
Jared Gardner is professor in Ohio State's Department of English and Film Studies Program, where his classes include History of Comics, Comics and Time, and Film and Graphic Narrative. He is the author of Master Plots: Race and the Founding of an American Literature, 1787–1845 (Johns Hopkins UP, 1998);Projections: Comics and the History of 21st-century Storytelling (Stanford UP, 2011); and The Rise and Fall of Early American Magazine Culture (Illinois UP, 2012). Other writings can be found at jaredgardner.org. Gardner also serves as director of Ohio State's Popular Culture Studies.