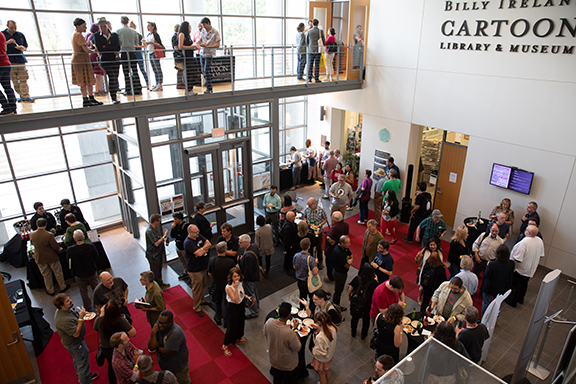 Dates/Times
October 7, 2022
5:00 pm - 7:00 pm
Location
Billy Ireland Cartoon Library & Museum
Sullivant Hall, 1813 N. High St.
Columbus OH 43210
CXC attendees and guests are invited to kick off the weekend with our annual Friday party at the Billy Ireland Cartoon Library & Museum, the mecca for cartoons and comic art! Explore our current exhibits, enjoy refreshments, and cheer on your cartoonist colleagues as we give out our annual awards.
Visitors will get to peruse an open-house display of materials in the reading room, and view our current exhibitions in the galleries: STILL…Racism in America: A Retrospective in Cartoons by Brumsic Brandon Jr. and Barbara Brandon-Croft, and Celebrating Sparky: Charles M. Schulz and Peanuts. The Cleveland-based Cliff Habian jazz trio will perform the music of Vince Guaraldi throughout the reception, highlighting the music Guaraldi wrote for the Peanuts television specials.
Don't miss the award ceremony in our lobby at 6:00pm!
Cartoon Crossroads Columbus (CXC) 2022 has over 55 hours of programming beginning Wednesday, October 5. Visit CXC's website for complete information: https://www.cartooncrossroadscolumbus.org/