CXC Special Guest Dana Simpson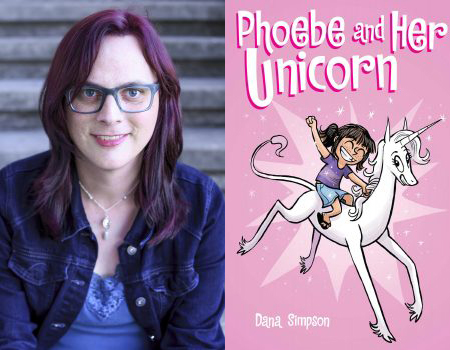 Dates/Times
September 28, 2017 - October 1, 2017

Join our special guest DANA SIMPSON this Thursday, September 28 from 3:00 to 3:50 pm at the Billy Ireland Cartoon Library & Museum. Tom Spurgeon will be speaking with Dana for the first of our Skill Set series during Cartoon Crossroads Columbus (CXC). A special thank you to GoComics for their sponsorship! Dana will also be at the Columbus Metropolitan Library for events on Saturday and SundayDana Simpson has enjoyed one of the great success stories this decade with the newspaper strip and print collection of Phoebe and her Unicorn. She is also one of the rare cartoonists to make the jump from on-line presentation to the printed form.
Dana Simpson first caught the eyes of comics readers with internet strip Ozy and Millie. After winning the 2009 Comic Strip Superstar contest, Simpson developed the strip Phoebe and Her Unicorn (originally known as Heavenly Nostrils), which is now syndicated in over 200 newspapers worldwide. There are five book collections: Phoebe and Her Unicorn, Unicorn on a Roll, Unicorn vs. Goblins, Razzle Dazzle Unicorn, and Unicorn Crossing. Simpson's books have appeared on the New York Times bestseller list, and won the Washington State Book Award and the Pacific Northwest Book Award.
On Sunday, October 1 at 1:30 pm, Dana will also be part of the panel Comics Are For Kids: Straight From The Creators' Mouths at the Columbus Metropolitan Library (Downtown Branch, Room 1-A). This panel (also featuring Mike Maihack (Cleopatra In Space) and Judd Winick (Hilo)) addresses kids and those that wish to create for them, providing a comprehensive education for approaches, strategies and reasons for success in comics' fastest-growing category!
Immediately following the panel, from 2:30 to 3:20 pm on Sunday, Dana will be signing comics at the Kids Comics Signapalooza (Across From Room 1-A) Dana will be signing alongside Jeff Smith, Jarrett J. Krosoczka, Mike Maihack, and Judd Winick! Get those comics signed!
You can also find Dana exhibiting at the CXC Expo and Marketplace (also at the Columbus Metropolitan Library) on Saturday, September 30 from 11 am – 6 pm and Sunday, October 1 from noon-5 pm.
Dana Simpson is one of the Billy Ireland's four special guests arriving this week. We will also be welcoming Kat Fajardo, Derf Backderf, and Signe Wilkinson!
A full schedule of CXC events can be found here. All events are FREE and open to the public, including Friday night's opening reception and Billy Ireland 40th anniversary celebration!