Dark Laughter Revisited: The Life and Times of Ollie Harrington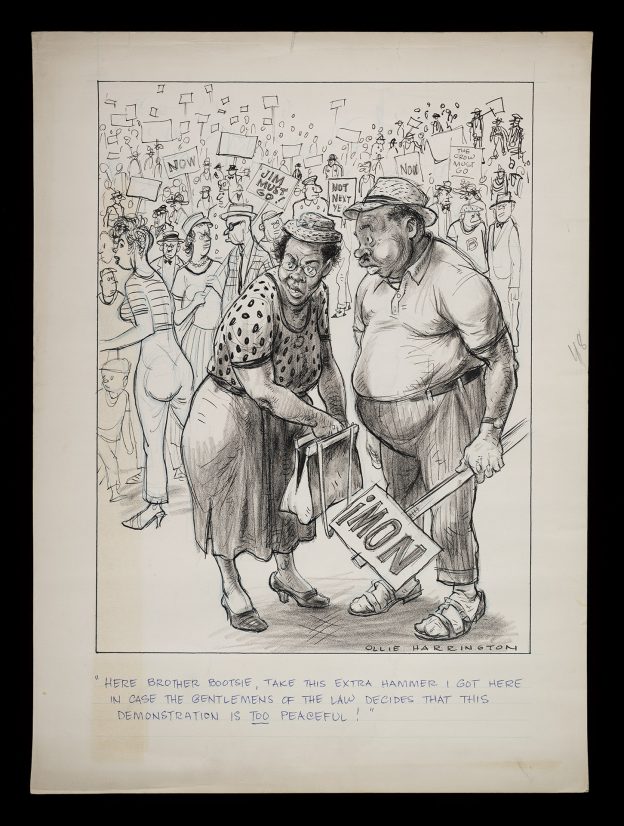 Dates/Times
November 13, 2021 - May 8, 2022
1:00 pm - 5:00 pm
Location
Friends of the Libraries Gallery, Billy Ireland Cartoon Library & Museum
Sullivant Hall, 1813 N. High St.
Columbus Ohio 43210
Throughout his career, Oliver "Ollie" Harrington (1912-1995) used his voice and artistic talents as a cartoonist to attack racial, economic and social injustice with razor-sharp wit and insight. Speaking from the perspective of a cartoonist of color, his commentary chronicles many of the events and issues that defined the 20th century, from segregation and apartheid, to war and poverty. Harrington's life and career intersected with the Harlem Renaissance, the Civil Rights movement, the Black émigré community in Paris after WWII, and communist East Germany. Many of Harrington's cartoons remain relevant and speak to problems that sadly are still unresolved in contemporary times. 
Starting in the 1930s, Harrington's work was widely published in the Black Press including the New York Amsterdam News, the Pittsburgh Courier and the People's Voice.  His long-running series Dark Laughter (later known as Bootsie), cast a satirical, yet affectionate, gaze on Black America through the adventures of an observant African-American "everyman." 
Harrington was an unapologetic activist and critic of racism and capitalism, who emigrated to Paris in 1952 and, ultimately to Berlin in 1961, in response to concerns about FBI surveillance due to his outspoken criticism of the U.S. government. During World War II, he served as a war correspondent and later worked briefly as the NAACP public relations director. Later in his career, he also published trenchant editorial cartoons in the Daily World and the German satirical publication, Eulenspiegel.   
This retrospective exhibition features work from the private collection of Dr. Walter O. Evans as well as the Billy Ireland Cartoon Library & Museum's Oliver Harrington Collection, acquired from his widow, Dr. Helma Harrington.   
Curated by Jenny E. Robb and Dr. Kay Clopton.
A reception and program is scheduled for Saturday, March 5, 2022. More information is here: https://cartoons.osu.edu/events/dark-laughter-revisited-exhibition-reception-and-program/
Art by Ollie Harrington. Bootsie, June 29, 1963. Collection of Dr. and Mrs. Walter O. Evans. © Estate of Oliver W. Harrington