Drawn to Presidents: Portraits and Satiric Drawings by Drew Friedman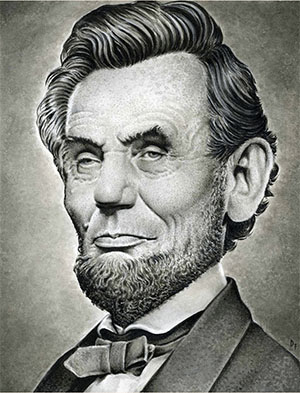 Dates/Times
November 2, 2019 - February 9, 2020

Location
Friends of the Libraries Gallery, Billy Ireland Cartoon Library & Museum
Sullivant Hall, 1813 N. High St.
Columbus Ohio 43210
Abraham Lincoln by Drew Friedman (All the Presidents, Fantagraphics, 2019)
Closed Mondays, during exhibit installations, and holidays. Before your visit, see Hours for all closings. 
Pennsylvania-based illustrator Drew Friedman has employed his intensely realistic, warts-and-all style of caricature to satirize celebrity and authority for four decades. In his latest book from Fantagraphics, All the Presidents, Friedman points his pen at the exclusive club of the United States presidents.
This exhibit features the original artwork created by Friedman for All the Presidents, as well as his presidential-themed original art created for, among others, SPY, MAD, TIME, Newsweek, The New Yorker, The New Republic, The New York Observer, and TOPPS "Wacky Packs."
Building on a centuries-old tradition of cartoonists satirizing those in power, Friedman's influences include Edward Sorel, Robert Grossman, Mort Drucker, David Levine, and more.
A reception and program, Spotlight on Drew Friedman (In Conversation with C.F. Payne), to celebrate the opening of this exhibition will be held at the Billy Ireland Cartoon Library & Museum on Saturday, November 16, 2019 from 4:30 to 7:30 pm. More information on this event is here.