Exploring Calvin and Hobbes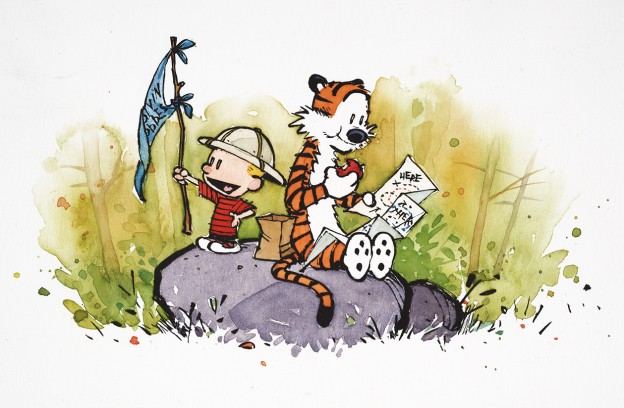 Dates/Times
March 22, 2014 - August 3, 2014

Location
Robinson Gallery, Billy Ireland Cartoon Library & Museum
Sullivant Hall, 1813 N. High St.
Columbus OH 43210
Image © Bill Watterson.
Exploring Calvin and Hobbes revisits the beloved comic strip created by Bill Watterson from 1985-1995. The exhibition will feature original Calvin and Hobbes dailies and Sundays as well as specialty pieces by Watterson from his collection of more than 3,000 originals housed at the BICLM. This is only the second exhibition devoted to Calvin and Hobbes, which appeared in 2,400 newspapers worldwide at the height of its popularity. Watterson won the National Cartoonists Society's prestigious Reuben Award for "Outstanding Cartoonist of the Year" in both 1986 and 1988.
Six-year-old Calvin, named after the 16th-century theologian John Calvin, has a vivid imagination; an aversion to homework, chores, and girls; and a penchant for discussing the meaning of life. Hobbes, named for the 17th-century British philosopher Thomas Hobbes, appears to most of the strips' characters as a stuffed animal, but from Calvin's perspective, he is a living, breathing—sometimes even dangerous—tiger. He's also a best friend, a playmate, a co-conspirator, and occasionally the voice of reason. The strip follows the two as they navigate the bumpy ride of life, surrounded by a supporting cast that includes Calvin's parents, his neighbor Susie, his babysitter Rosalyn, the school bully Moe, and his teacher, Mrs. Wormwood.
The exhibition, curated by BICLM curator Jenny E. Robb, explores Watterson's mastery of the comic strip art form through engaging characters, thoughtful writing, and creative layouts. It will also include original art by cartoonists who influenced Watterson, chosen by the artist from the BICLM's collection, such as Charles Schulz, George Herriman, Jim Borgman, Berkeley Breathed, Garry Trudeau, and Ralph Steadman.
Earlier this month, the press-shy Watterson accepted a request to talk about the state of cartoon art in an interview with Curator Jenny Robb.