Floyd Abrams: Political Cartoons and Freedom of Speech
Dates/Times
October 13, 2019
2:30 pm - 5:00 pm
Location
Jean and Charles Schulz Lecture Hall
Room 220, Sullivant Hall, 1813 North High Street
Columbus OH 43210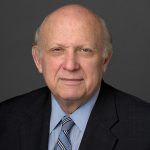 Join us on Sunday, October 13 at 3:00 pm for a speaking event and reception for our current exhibition, Front Line: Editorial Cartoonists and the First Amendment, on display through October 20, 2019 at the Billy Ireland Cartoon Library & Museum. This FREE event begins at 2:30 pm with a tour of the exhibition, a lecture by Floyd Abrams begins at 3:00 pm,  followed by a reception and book signing. Books will be available for purchase on site from Gramercy Books.
This event is a collaboration between the John Glenn College of Public Affairs and the Billy Ireland Cartoon Library & Museum.
For more than half a century, Floyd Abrams has been America's staunchest defender of the First Amendment. The award-winning lawyer has litigated landmark cases like the Pentagon Papers and Citizens United. The Billy Ireland Cartoon Library & Museum is pleased to host Floyd Abrams for a discussion on the history of editorial cartoons in America and how cartoonists continue to use the protections granted by the First Amendment as a catalyst for political engagement.
2:30 pm: Museum Galleries: Tour of the Front Line exhibit by Lucy Shelton Caswell, Professor Emerita and Founding Curator of the Billy Ireland Cartoon Library & Museum and co-curator of this exhibition.
3:00 pm: Jean and Charles Schulz Lecture Hall: Floyd Abrams: Political Cartoons and Freedom of Speech. Moderated by Lucy Shelton Caswell.
4:00 pm: Reception, exhibit viewing, and book signing for The Soul of the First Amendment: Why Freedom of Speech Matters (Yale University Press, 2017) and Friend of the Court (Yale University Press, 2014). Books will be available for purchase on site from Gramercy Books.
Speaker Bio: Floyd Abrams
Prominent First Amendment Lawyer and Author
Cahill Gordon & Reindel LLP; Columbia University
Floyd Abrams is a partner at Cahill, Gordon & Reindel in New York City. He is an expert on constitutional law and one of the country's most notable defenders of freedom of speech and press. Abrams is currently the William J. Brennan Visiting Professor at the Columbia University Graduate School of Journalism.
Abrams has argued frequently before the Supreme Court in a large number of its most significant First Amendment cases. He was co-counsel to The New York Times in the Pentagon Papers case; counsel to the Brooklyn Museum of Art in its legal battles with Mayor Rudolph Giuliani; counsel to Senator Mitch McConnell and the National Association of Broadcasters in a First Amendment-rooted challenge to the constitutionality of the McCain-Feingold campaign finance legislation; counsel to Senator McConnell in the Citizens United case; and counsel to many journalists, including Judith Miller and Myron Farber, who sought to protect the identity of their confidential sources. He has represented The Times, ABC, NBC, CBS, CNN, Time Magazine, Business Week, The Nation, Reader's Digest, The McGraw-Hill Companies, Inc. and numerous other clients in trials and appeals.