Front Line: Editorial Cartoonists and the First Amendment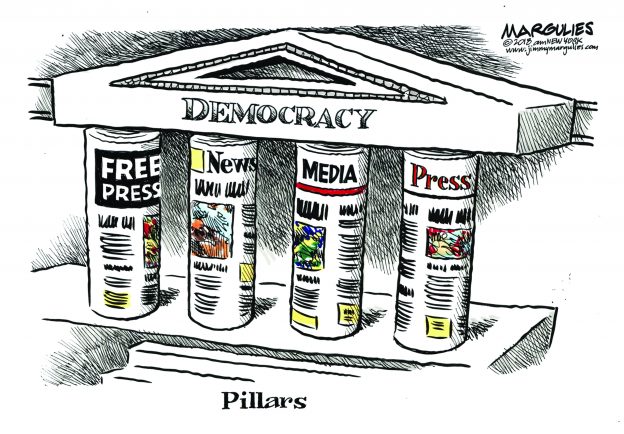 Dates/Times
April 20, 2019 - October 20, 2019

Location
Friends of the Libraries Gallery, Billy Ireland Cartoon Library & Museum
Sullivant Hall, 1813 N. High St.
Columbus Ohio 43210
Pillars by Jimmy Margulies. August 16, 2018.
Closed Mondays, during exhibit installations, and holidays. Before your visit, see Hours for all closings.
What do current debates about social media, trigger warnings, fake news, and libel have to do with the First Amendment and editorial cartoonists?
Editorial cartoonists both benefit from and defend First Amendment speech and press protections. This exhibition examines free speech through historical works from the Billy Ireland Cartoon Library & Museum's collections as well as contemporary works by members of the Association of American Editorial Cartoonists.Ann Telnaes, Pulitzer-Prize winning political cartoonist, and Lucy Shelton Caswell, Professor Emerita and Founding Curator of the Billy Ireland Cartoon Library & Museum, co-curated this exhibition.