Graphic Details: Confessional Comics by Jewish Women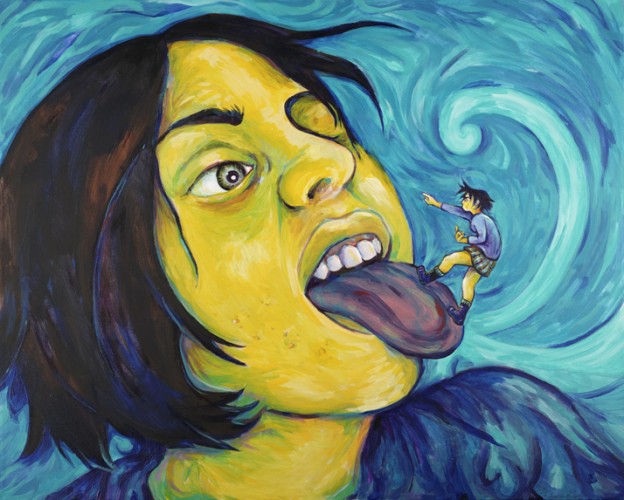 Dates/Times
March 28, 2015 - July 5, 2015

Location
Billy Ireland Cartoon Library & Museum
Sullivant Hall, 1813 N. High St.
Columbus OH 43210
Image: Miss Lasko-Gross, Self-Portrait, July 30, 2010.
Graphic Details is a groundbreaking touring exhibition providing the first in-depth look at a unique and prolific niche of graphic storytelling – Jewish women's autobiographical comics. While the influential role of Jews in cartooning has long been acknowledged, the role of Jewish women in shaping the medium is largely unexplored. This exhibition of original drawings, full comic books and graphic novels, presents the powerful work of eighteen U.S., Canadian, and International artists whose intimate, confessional work has influenced the world of comics over the last four decades, creating an entirely new genre. Spotlighting the raw, revealing voices of Jewish women and their singular presence in graphic storytelling, the exhibition illuminates the intersection of experiences that make these diaristic comics so compelling. By turns funny, outrageous, poignant and embarrassingly intimate, the works in Graphic Details reflect the artists' individual journeys, refracted through a distinctively Jewish lens in a pop culture art form.
Many of the original artworks on display have never been exhibited in public until now. Artists run the gamut from pioneering Wimmen's Comix and Twisted Sisters artists of the 1970s and 1980s to the superstars of the new generation. Participating artists include: Vanessa Davis, Bernice Eisenstein, Sarah Glidden, Miriam Katin, Aline Kominsky-Crumb, Miss Lasko-Gross, Sarah Lazarovic, Miriam Libicki, Sarah Lightman, Diane Noomin, Corinne Pearlman, Trina Robbins, Racheli Rotner, Sharon Rudahl, Lauri Sandell, Ariel Schrag, Lauren Weinstein, and Ilana Zeffren. This iteration of the exhibit also includes selections from The Ohio State University Billy Ireland Cartoon Library & Museum collection.
Curated by Sarah Lightman and Michael Kaminer. Traveling exhibition conceived by Zachary Paul Levine and Yeshiva University Museum.
Sarah Lightman is a leading voice in the field of autobiographical comics. She is an internationally exhibiting artist, curator and author of numerous academic articles and editor of the first book on Jewish women and comics: Graphic Details: Jewish Women's Autobiographical Comics in Essays and Interviews (McFarland 2014). She is a director of Laydeez do Comics and is working on her graphic novel The Book of Sarah which will be published by Myriad Editions.
Michael Kaminer is a New York-based writer who collects original cartoon art. His story for the Forward on autobiographical comics by Jewish women became the inspiration for Graphic Details. Michael is the restaurant critic for the New York Daily News, and contributes to The New York Times, The Washington Post, the New York Observer, and other media.
Sponsored by:
Join us for an opening program and reception on Sunday, April 19 featuring Sarah Glidden, Miriam Katin, Sarah Lightman, and Trina Robbins beginning at 1:30 pm. This event is free and open to the public.