Ladies First: A Century of Women's Innovations in Comics and Cartoon Art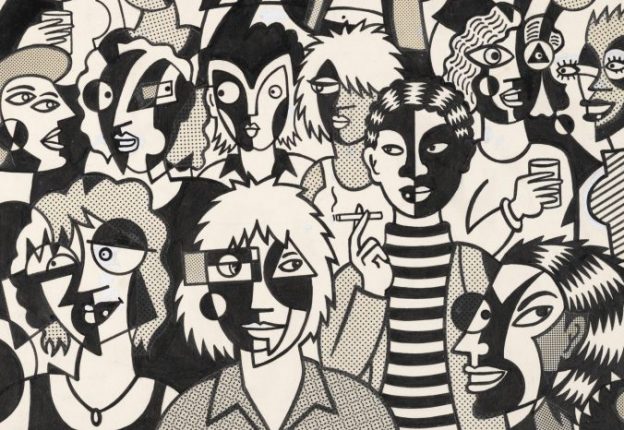 Dates/Times
January 30, 2021 - April 18, 2021
1:00 pm - 4:00 pm
Location
Robinson Gallery, Billy Ireland Cartoon Library & Museum
Sullivant Hall, 1813 N. High St.
Columbus OH 43210
[Party Scene] by Mary Fleener, 1982
From the first female political cartoonist and the first female-created superhero, to the feminist voices that emerged from underground and alternative comics, Ladies First: A Century of Women's Innovations in Comics and Cartoon Art  is a celebration of how women have defined the field of comics and cartoon art for generations.
Women have always pushed cartoon art forward. A century ago, suffragettes transformed cartooning to champion their cause. In the booming newspaper comic strip era, artists like Jackie Ormes, Nell Brinkley, and Rose O'Neil found enormous success marketing and licensing their characters into products that would influence young people for decades. Contemporary artists carve out a place between fact and fiction to share deeply personal stories in underground comix, graphic novels and anthologies.
Drawing on women's voices from the margins to the center, this exhibit surveys women's innovations in comics and cartoon art, tracking their contributions to the field. Included are works from early suffragette cartoonists, the queens of the comic strip pages, mainstream comic book artists, communities of self-published minicomics creators, and everyone in between.
The exhibit features works by Nina Allender, Dale Messick, Edwina Dumm, Aline Kominsky Crumb, Nell Brinkley, Lynda Barry, June Tarpe Mills, Dori Seda, Barbara Brandon-Croft, Trina Robbins, Marie Severin, Rose O'Neil, Jackie Ormes, Lynn Johnston, Liana Finck, Wendy Pini, Kate Salley Palmer, Carta Monir, Alison Bechdel and dozens more.
Ladies First ushers in the 100th anniversary of the passage of the 19th Amendment and calls attention to the transformative work of women artists in the field of cartooning then and now.
Curated by Caitlin McGurk and Rachel Miller
**Reservations are required, please visit cartoons.osu.edu/gallery-visit-reservation to book your visit.**