Pup Portraits with Nomi Kane (online event)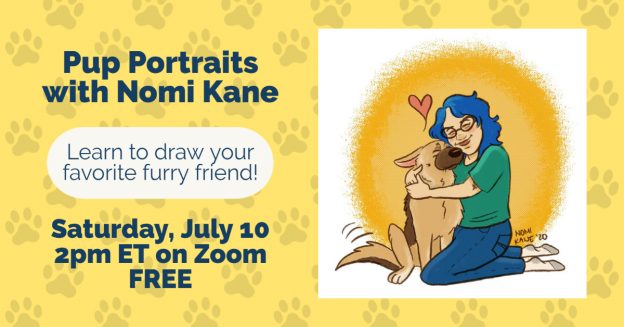 Dates/Times
July 10, 2021
2:00 pm - 3:00 pm
Join cartoonist and toy designer Nomi Kane for an hour-long Zoom workshop on how to draw your canine companions! Kane will walk the audience through the basics of dog doodling, and how to add the unique characteristics that make your dogs truly your own. Kane will show how to adjust features like snouts or ears to reflect your pooch's personality. This workshop is meant for all ages, and children and families are encouraged to participate together! Attendees will have the opportunity to share their drawings. Have your pencils and paper ready.
FREE! 2pm ET (11am PST)
This event is happening in conjunction with the exhibit The Dog Show: Two Centuries of Canine Cartoons, on display now through October 31, 2021 at the Billy Ireland Cartoon Library & Museum.
Nomi Kane is an editorial cartoonist, illustrator, and designer. She's an alumna of Columbia College Chicago (BA '06) and The Center for Cartoon Studies (MFA '11). By day, Nomi designs action figures at Super7 HQ and teaches cartooning at California College of the Arts. Nomi lives in sunny Richmond, CA with her big, goofy dog, Dino. www.nomikane.com