Save the Date! Exhibition Reception and 40th Anniversary Celebration | May 1, 2017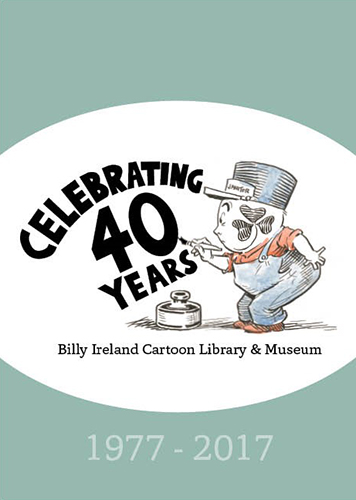 Dates/Times
May 1, 2017
4:00 pm - 7:00 pm
Location
Billy Ireland Cartoon Library & Museum
Sullivant Hall, 1813 N. High St.
Columbus OH 43210
On May 1, 1977, founding curator Lucy Shelton Caswell began work on the Milton Caniff collection, and the institution that would become The Billy Ireland Cartoon Library & Museum was born. Join us for a special celebration, exactly 40 years later!
This is an excellent chance to explore our two new exhibits, TALES FROM THE VAULT: 40 YEARS/40 STORIES and FOUNDING COLLECTIONS: 1977-1987!
Catered reception and cash bar ♦ Games and activities ♦ Raffle to support the new Lucy Shelton Caswell Research Award ♦ Photo opportunities ♦ Behind-the-scenes archive tours ♦ A curators' tour at 5 pm with Jenny Robb, Caitlin McGurk, and Lucy Caswell ♦ Cake!
This FREE event is made possible through generous support from Eileen & Lynn Theis. We hope you will celebrate with us on May 1st!