SÕL-CON 2019: The Brown and Black Comix Symposium Talks/Expo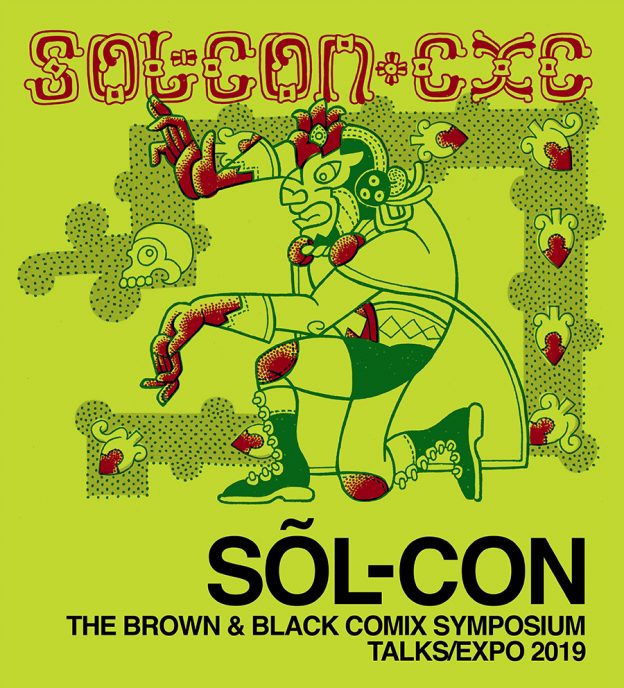 Dates/Times
September 25, 2019 - September 29, 2019

SÕL-CON: The Brown and Black Comix Expo brings together Columbus area youth, as well as industry insiders, indie comic creators and exhibitors, for a comic convention unlike any other. In a two-day expo and workshop extravaganza, K-12 youth, Ohio State students, and general public will meet and learn from African American and Latinx creators.
In addition to the grand expo space where you will encounter the most innovative comics by creators of color, you can attend workshops to learn how to create comics, flip-books, Zines, storyboards, and animation.
SÕL-CON is intended as both a celebration of current creative minds and as a means to open doors for youth of color to learn how to express their stories through the comic book storytelling arts. SÕL-CON serves as a forum for the Columbus and Ohio State community to learn from today's giants in the comic book industry.
Every Fall, SÕL-CON takes place at Ohio State's Hale Hall and this year will be expanded to Sullivant Hall. SÕL-CON works in partnership with the Billy Ireland Cartoon Library & Museum and CXC/Cartoon Crossroads Columbus and the CXC Symposium.  (no symposium in 2019)
SÕL-CON: The Brown and Black Comix Expo will take place on September 25 at the Billy Ireland Cartoon Library & Museum in Sullivant Hall for The SOL-CON Graduate Symposium, September 26-27 in Hale Hall for a lecture and reception, and September 28-29 as part of CXC, at the Columbus Metropolitan Library with panel discussions and exhibitors. All events are FREE and open to the public.
Come join us in celebrating the present, the past, and the future of comics.Cosponsored by OSU's Laser & ODI, CLAS, Thompson Library, Billy Ireland Cartoon Library & Museum, COSI, CXC: Cartoon Crossroads Columbus, Columbus Metropolitan Library, University Libraries, U.S. Department of Education Title VI's grants for The Ohio State University's Center for Latin American Studies, Center for Slavic and East European Studies and East Asian Studies Center.