SÕL-CON: The Brown and Black Comix Expo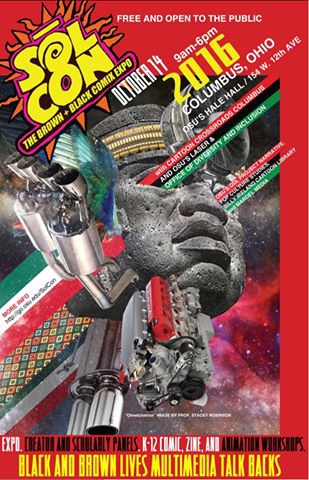 Dates/Times
October 13, 2016 - October 16, 2016

Location
Hale Hall
154 W. 12th Avenue
Columbus OH 43210
The Mighty SÕL-CON, The Brown and Black Comics Expo, roars to life for year two with its patented Friday on-campus expo, panels, and workshops. There will be "Brown and Black Lives Matter" talkbacks with Hector Rodriguez, Keith Knight and Lalo Alcaraz; K-12 friendly 'zine, cartoon, comics, and digital animation workshops; panels on topics such as creating indie-cons, issues of race, gender, and futurism; and fandom in Latino and African-American comics.
Join some of the best and brightest creators in the country in a high-energy creative atmosphere. SÕL-CON Schedule of Events
Free and open to the public; there will be workshops for K-12 participants.
Contact: Frederick Luis Aldama, 510-367-9112.
---
Latino and Latin American Space for Enrichment and Research (LASER) nurtures a community of students and scholars engaged in the study of Latinos and Latin Americans and has expanded the presence of Latinos in higher education, enriching the undergraduate research experience and helping to prepare student for successful application to professional and graduate school programs. Signature programs include: a three-stage, mentoring system that supports students from high school through undergraduate and graduate school; Latino Role Models Day; Bridge Builders Forum, designed to increase Latino access to higher education; and SÕL-CON: The Brown & Black Comix Expo.