Sol-Con: The Brown + Black Comix Expo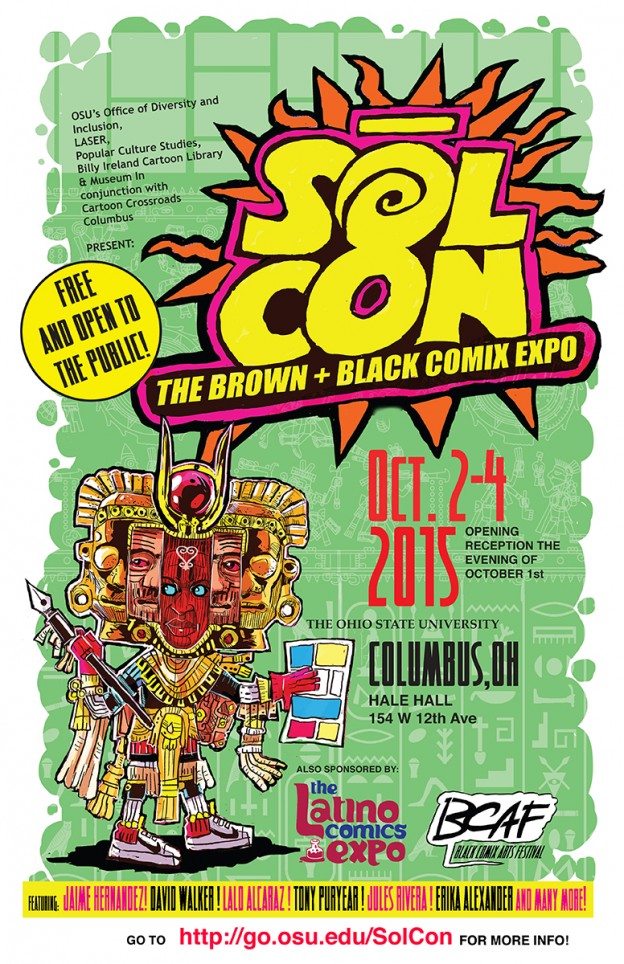 Dates/Times
October 1, 2015 - October 4, 2015

Location
Hale Hall
154 W. 12th Avenue
Columbus OH 43210
SÕL-CON is FREE and open to the public. All events take place in Hale Hall on the Ohio State Campus.
Grand Expo | Kids Workshops | Featured Artist Conversations | Getting Published | Panels | Film Screenings | And much more!
Latino and African American comics have been traditionally sidelined in the mainstream. During Hispanic Heritage Month, The Ohio State University Office of Diversity and Inclusion will host the first annual SÕL-CON: The Brown + Black Comix Expo 2015. Visit the site for more information, the schedule and to register.
This three-day event includes a Grand Expo where authors/artists will feature their work, comic book creating workshops for high school and middle school students, academic panels, and featured conversations with the artists.
With a grand expo space for participants, along with academic panels and how-to workshops, this will be the first venue to bring together Latino and African American comic book talent and intellectual creativity.
Cosponsored by LASER (Latino & Latin American Space for Enrichment and Research), Young Scholars Program, Latino Student Association, Black Student Association, Upward Bound, Todd Anthony Bell National Resource Center on the African American Male, Popular Culture Studies, Latino Comix Expo, Black Comix Arts Festival, Billy Ireland Cartoon Library and Museum, Cartoon Crossroads Columbus