SÕL-CON: The Brown, Black, & Indigenous Comics Expo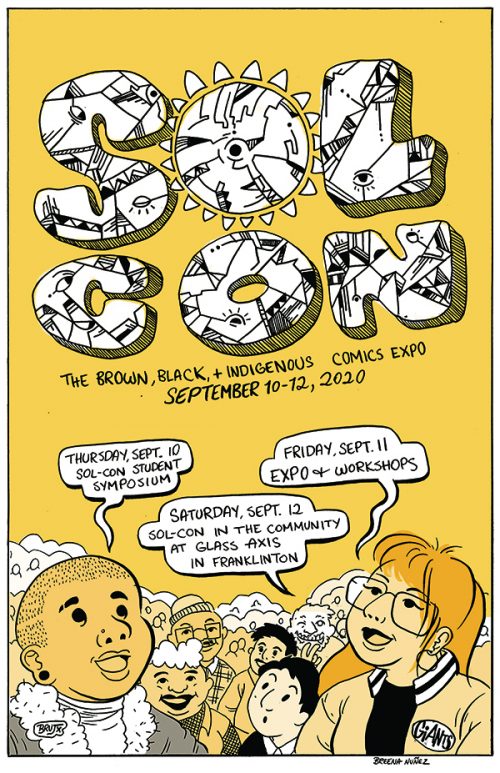 Dates/Times
September 10, 2020 - September 12, 2020

The Billy Ireland Cartoon Library & Museum is proud to be a cosponsor of SÕL-CON: The Brown, Black, and Indigenous Comix Expo at Ohio State. Join us online on Thursday, September 10 and Friday, September 11 for this year's virtual iteration of the show. FREE! Registration required (see below)

Join us on Thursday, September 10th from 9am – 3:30pm EST for the SÕL-CON Graduate Symposium. This event will feature panel presentations on "Graphic Borders of the Self and the State", "Envisioning Futures & Futurisms: Resistance, Marginalization, and Genre", "Embodied Practices of Survival and Self-Production" and more.

SÕL-CON Expo Day is intended as both a celebration of current creative minds and as a means to open doors for youth of color to learn how to express their stories through the comic book storytelling arts. The SÕL-CON Expo Day consists of four creator roundtables featuring comics creators, multimedia artists, & scholars in conversation on topics including "How to Change the World with a Pen: Comics and the Future", "Sustaining the Momentum: Comics & DIY Culture" and more.
For the full SÕL-CON schedule visit: https://odi.osu.edu/2020-sol-con-schedule
Questions? Please contact SÕL-CON's Central Coordinator Katlin Marisol Sweeney: sweeney.464@buckeyemail.osu.edu.
Sponsored by the Office of Diversity & Inclusion, the Billy Ireland Cartoon Library & Museum, and LASER