Spotlight on Drew Friedman: In Conversation with C.F. Payne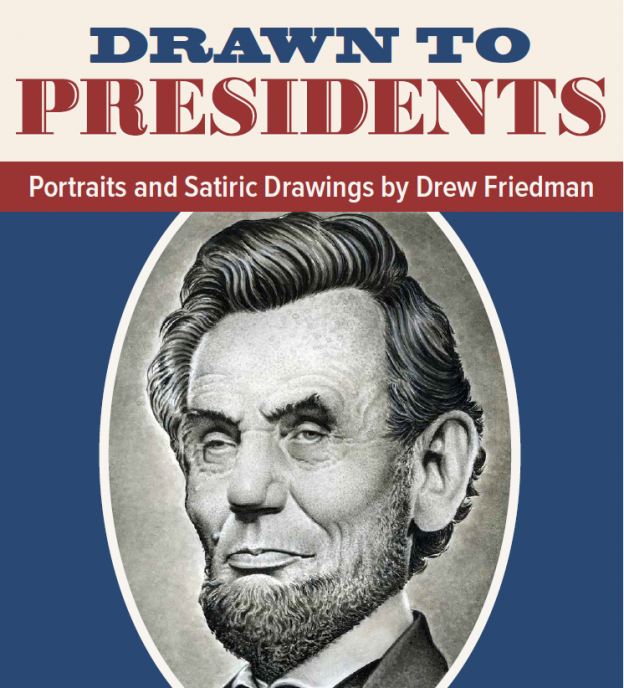 Dates/Times
November 16, 2019
4:30 pm - 7:30 pm
Location
Robinson Gallery, Billy Ireland Cartoon Library & Museum
Sullivant Hall, 1813 N. High St.
Columbus OH 43210
Please join us for a reception and program to celebrate the opening of the new exhibition Drawn to Presidents: Portraits and Satiric Drawings by Drew Friedman at the Billy Ireland Cartoon Library & Museum. Illustrators Drew Friedman and C.F. Payne will discuss, in a visual conversation, Friedman's latest book of portraits All The Presidents (Fantagraphics, 2019), as well as their artistic influences, from MAD magazine artists Mort Drucker and Jack Davis, to David Levine and Robert Grossman. They will also discuss creating politically-themed artwork over the years for publications ranging from SPY to TIME, to The New York Observer and The New Yorker.
4:30–5:00 pm: Tour of the exhibition led by Drew Friedman
5:00–6:00 pm: Program "Spotlight on Drew Friedman—In conversation with C.F. Payne"
6:00–7:30 pm: Reception and book signing for All the Presidents. Books will be available for purchase on site from the Wexner Center Store. Light refreshments and beverages will be served.
Let us know you're coming on Facebook!
Speaker Biographies:
Drew Friedman
Award-winning artist Drew Friedman's comics and illustrations have appeared in RAW, Weirdo, Heavy Metal, National Lampoon, SPY, MAD, Time, The New Yorker, The New York Times, The New York Observer and many other publications, as well as on numerous book, CD and DVD covers. In his New York Times book review of Old Jewish Comedians, Steven Heller wrote: "A festival of drawing virtuosity and fabulous craggy faces. Drew Friedman might very well be the Vermeer of the Borscht Belt." The Society of Illustrators hosted a two-floor main gallery showing of all of Friedman's Old Jewish Comedians drawings in 2014. Filmmaker Kevin Dougherty is preparing a documentary, "Vermeer of the Borscht Belt" covering Friedman's career.
Friedman has had six anthologies of his work published. His latest book is All The Presidents (Fantagraphics Books, 2019) with a foreword by public radio host Kurt Andersen.
Drew Friedman and his wife Kathy Bidus live in rural PA with their rescue beagle Gunther.
C.F. Payne
Born 1954 in Cincinnati, OH, C.F. Payne's illustrations have appeared in magazines, advertisements, and children's books for more than 35 years. After graduating from Miami University with a BFA and the Illustrators Workshop he started his freelance career in Dallas, TX in 1980. He has taught illustration for more than 30 years. Prior to joining the Hartford Art School in 2016 as Director of the MFA in Illustration program, he taught at Columbus College of Art and Design for nineteen years. His art has been exhibited in numerous museums and university galleries including the Cincinnati Art Museum, the National Portrait Gallery, the Norman Rockwell Museum, Huntington Art Museum, the Baseball Hall of Fame and more. Payne's art has appeared on the covers of Time Magazine, MAD Magazine, Der Spiegel, The New York Times Magazine, Sports Illustrated, The Atlantic, and Reader's Digest. C.F. Payne has illustrated 20 children's books including, "The Remarkable Farkle McBride" by actor John Lithgow, "Mousetronaut" by astronaut Mark Kelly, Mark Twain's classic, "The Adventures of Tom Sawyer" and most recently "Miss Mary Reporting". In 2018 he was elected to the Society of Illustrators Hall of Fame. C.F. Payne and his wife Paula currently resides in Lebanon, OH.