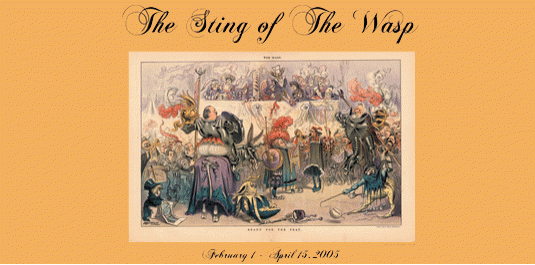 Dates/Times
February 1, 2005 - April 15, 2005

Location
Reading Room Gallery
27 W. 17th Avenue Mall
Columbus Ohio
For most of the 19th century, American magazines were vast monochromatic fields of black on white. Beginning in the 1830s, a few magazines featured small hand-colored plates, but they were meager exceptions. Then, in the 1870s, thanks to the perfection of the chromolithographic process, a new breed of magazine exploding with color came to the fore. In short order, chromolithographic weeklies began popping up all over America. Outside of the famous New York weeklies, Puck and Judge, though, none lasted more than a year or two, except for one–The San Francisco Wasp.
That The Wasp endured was most improbable. Founded during the worst financial depression of the 19th century, it was expensive to produce. Published in an under-populated region of the country, it was guaranteed never to have a significant circulation. Often out of step with majority opinion, it never became the political power broker it aspired to be. Yet The Wasp was a success. It was for many years the most widely read magazine west of the Rockies. Its best cartoons compared favorably with those being published in New York. And the work of one of its editors, Ambrose Bierce, is read by more people today than are the writings of any of the editors of its more widely celebrated rivals.
During its first twenty years, the period of time when cartoons dominated its contents, The Wasp was, by turns, a staunch partisan of the Democratic Party, then politically independent, and finally a Republican Party booster of various stripes. It was owned by a series of men intent on advancing one political agenda or another. Twelve different men edited the magazine, while five served at different times as its chief cartoonist.
The Wasp was the colorful chronicler of one of the most exciting periods in the history of San Francisco. This show presents some of The Wasp's most powerful and representative cartoons from the private collection of guest curator Richard Samuel West. The exhibit is supported in part by the Mark Cohen and Rose Marie McDaniel Endowment and Milton Caniff Endowment of the Cartoon Research Library.
Richard Samuel West is an independent scholar and historian of American political cartooning. He edited two periodicals, The Puck Papers and Target, and is the author of the outstanding biography of Joseph Keppler, Satire on Stone. He currently is the owner of Periodyssey, the largest company in New England specializing in rare and out-of-print magazines. West's most recent book is The San Francisco Wasp: An Illustrated History.  Mr. West will speak at 6 30 pm, Thursday, March 3, 2005 at the Cartoon Research Library. A reception honoring Mr. West will begin at 5:30 p.m. This event is free and open to the public and is co-sponsored by the Aldus Society.