Sugar & Spice: Little Girls in the Funnies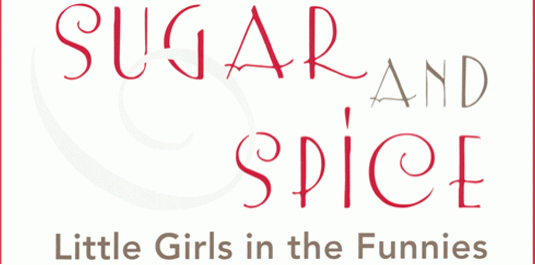 Dates/Times
September 18, 2006 - December 29, 2006

Location
Reading Room Gallery
27 W. 17th Avenue Mall
Columbus Ohio
The second day of Peanuts featured Patty happily walking down a sidewalk reciting the familiar nursery rhyme, "What are little girls made of?  Sugar and spice, and everything nice…"   She meets Charlie Brown, smacks him in the face, and continues her verse, "That's what little girls are made of!"  Charles Schulz knew about little girls because he was the father of three of them.  Once when he was asked if Peanuts was based his children, he replied that the strip was based on memory, not observation.  Schulz used the wellspring of his memory to create the repertory company of Peanuts characters that included little girls with realistic personalities.  As in several other aspects of the history of the American comic strip, Charles Schulz was innovative and influential in the type of little girl characters he conceived; and as a result of his innovation, post-Peanuts comic strips feature different types of girl characters.
Sugar and Spice is a sampling of girl characters who are comic strip protagonists, girls who are sidekicks of leading boy characters, and comics families with daughters. How girls were depicted in comic strips before and after Schulz created the Peanuts girls is the question asked by the exhibit.  The Charles M. Schulz Museum and Research Center hosted this exhibition from February 2 through June 30, 2006.  The exhibit was guest-curated by Lucy Shelton Caswell, professor and curator of Ohio State University's Cartoon Research Library.
There are three general categories of little girl comic strips:  those that highlight girls as protagonists; those where girl and boy characters are pals; and strips featuring families with female children.  Schulz employed each of these in Peanuts.  He built on the traditions of the past, but he expanded the role of little girls in the funnies, especially with his fussbudget character, Lucy.
The exhibition is divided into the three categories described above.  Within each group, comic strips before 1950 (when Peanuts debuted), Peanuts strips, and post-Peanuts comics are featured.  Blondie, Buster Brown, Dimples, Dennis the Menace, Family Circus, For Better or For Worse, Hi and Lois, Little Orphan Annie, Nancy, Wee Pals, Ernie Pook's Comeek, Non- Sequitur, and Agnes document the roles of other girls from different decades of the funnies.
The exhibition is free and open to the public.
Sugar and Spice:  Little Girls in the Funnies, the handsome exhibit catalog was published by the Schulz Museum.