Tech Camp: Intro to Graphic Stories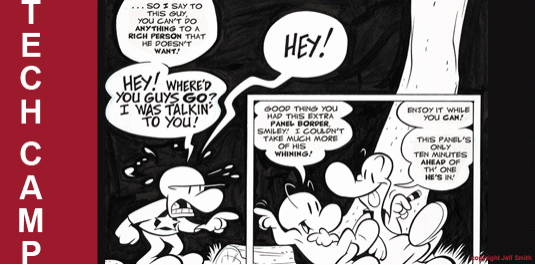 Dates/Times
July 23, 2008
9:00 am - 12:00 pm
Location
Wexner Center for the Arts Film/Video Theater
1871 N. High Street
Columbus Ohio 43210
Wexner Center for the Arts
July 23, 2008
Workshop for Teachers and Families
Catch comic and graphic novel fever, and practice a new form of story telling. You'll experience the Jeff Smith: Bone and Beyond exhibition and have fun while learning to use technology to create your own comic stories.
Artist and educator Dan Gerdeman will guide you in using digital photography and Comic Life, a fun computer application that lets you easily make comic book pages, or even an entire comic book, using your own images or drawings as panels. Learn a new way to promote literacy, experiment with technology, and take time to play — all at the same time.
This workshop is designed for parents or other grown-ups and children ages 6 to 10 to take together. Teachers interested in getting acquainted with technology at a beginning level are also invited to participate. Registration is $80.
E-mail edweb@wexarts.org or call (614) 292-6493 to register for more information.