The Dog Show Sidewalk Chalk Drawing with Hilary Frambes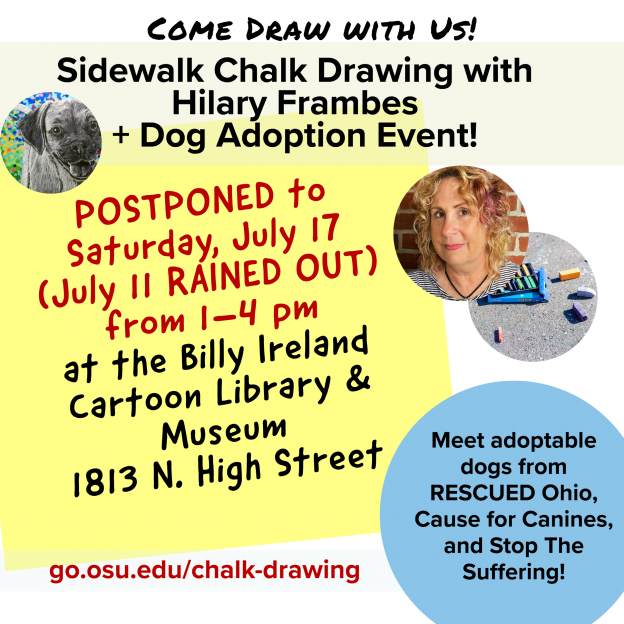 Dates/Times
July 17, 2021
1:00 pm - 4:00 pm
Location
Billy Ireland Cartoon Library & Museum
Sullivant Hall, 1813 N. High St.
Columbus OH 43210
RESCHEDULED FOR JULY 17 from 1-4 pm!
(JULY 11 RAINED OUT)
Come draw with us! Chalk artist Hilary Frambes will be outside of the Museum creating large-scale chalk drawings of dogs to celebrate our newest exhibition The Dog Show: Two Centuries of Canine Cartoons! We'll provide sidewalk chalk for you to add your own canine creations and there will be a few other dog-related activities for children and families to enjoy. Drop-in anytime during this event to join in and visit The Dog Show – museum galleries are open from 1:00 to 5:00 pm. Dogs are welcome to attend the outdoor activities (leash required). This event is FREE and open to all.
In case of rain on Sunday, July 11, we will reschedule for Saturday, July 17 from 1:00 to 4:00 pm.
REGISTER HERE
About Hilary Frambes: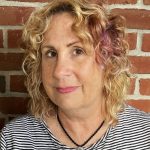 Hilary Frambes is an award-winning artist and community art educator living in Plain City, OH.  She has a BFA from Columbus College of Art & Design and an MA in Art Education from the University of Florida. She enjoys painting murals, portraits, and creating large-scale chalk murals for street painting festivals. Her work is inspired by current events, music, and popular culture. She also enjoys painting portraits on old cassettes or 8-track tapes. In late March 2020, her chalk mural of Amy Acton went viral on Facebook and Twitter. Since then, her work was featured on NBC4, ABC6/Fox28 as well as the Columbus Arts Festival, Columbus Monthly, Columbus Makes Art, Congresswoman Joyce Beatty's campaign Facebook page, and the New York Times. She believes that chalk art is basically like performance art and she loves that aspect of the medium. There is a magical interaction and connection between the viewer and maker that's so in the moment. People always ask her, "Aren't you sad when it rains?" On the contrary, there's something inherently beautiful about temporary art, as nothing in life is permanent and you have to enjoy everything in the present.