The Intergalactic Nemesis, Book One: Target Earth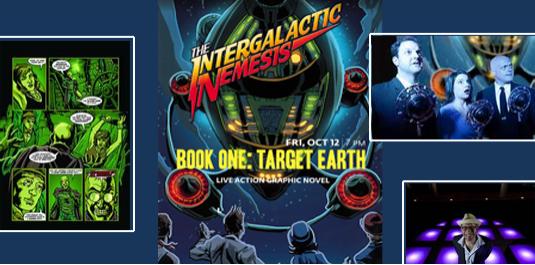 Dates/Times
October 12, 2012
7:00 pm
Location
Mershon Auditorium
27 West 17th Avenue Mall
Columbus Ohio 43210
Mershon Auditorium
October 12, 2012

A Live-Action Graphic Novel
For ages 7 and up
Are you ready for an adventure? This one-of-a-kind theater spectacle mashes up radio drama and comic books. Three actors voicing dozens of characters, bunches of sound effects, and more than 1,000 colorful, hand-drawn images projected on a gigantic screen tell the story of reporter Molly Sloan, her intrepid assistant Timmy Mendez, and a mysterious librarian named Ben Wilcott as they face the planet Earth's impending invasion by sludge monsters from the planet Zygon. Set in the year 1933, this lively sci-fi comedy captures the vibrant action of early comic books and radio broadcasting, while utilizing modern-day technology to bring the story to life.
Featured on NPR's All Things Considered and TBS's Conan (with a guest performance by Conan O'Brien himself,) Intergalactic Nemesis promises to engage comics fans of all ages with its signature blend of radio drama and uproariously fun storytelling. Combining punchy visuals with equally exciting acting and sound technology, the performance pays homage to a rich storytelling tradition, while standing on its own as a hilariously self-aware contemporary stage adventure. Creator Jason Neulander also likens the show to such adventure classics as Star Wars and Raiders of the Lost Ark.
For information on purchasing tickets, click on the link above to the Wex.
Cosponsored by the Wexner Center for the Arts, Billy Ireland Cartoon Library & Museum, and The Ohio State University Libraries.