The Irresistible Force Meets the Immovable Object: A Richard Thompson Retrospective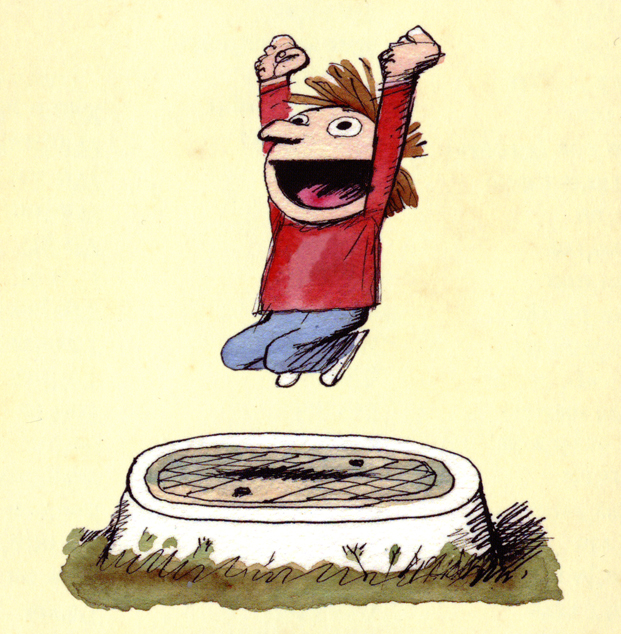 Dates/Times
March 22, 2014 - August 3, 2014

Location
Friends of the Libraries Gallery, Billy Ireland Cartoon Library & Museum
Sullivant Hall, 1813 N. High St.
Columbus Ohio 43210
Image © Richard Thompson.
Richard Thompson, the 2011 winner of the Reuben Award for "Outstanding Cartoonist of the Year," will be featured in the exhibition, The Irresistible Force Meets the Immovable Object: A Richard Thompson Retrospective. This exhibit, curated by Caitlin McGurk, will not only include gorgeously hand-watercolored Sunday originals and black-and-white dailies from Thompson's popular comic strip Cul de Sac, but will celebrate his lesser-known abilities as a master of caricature, gags, and editorial cartoons— both as cartoonist and painter.
The six-year run of Cul De Sac serves as an insightful, humorous, and at times sentimental illustration of suburban family life on the outskirts of the city, and therefore a meditation on the tiny and sacred universe we form with our family outside of the rest of the world.  The strip orbits around the activities of sibling child characters Alice and Petey Otterloop.  In an interview with Mike Rhode in 2008, Thompson explained, "Let's have a comic strip with kids, because comic strips are only this big now, so if you can fit somebody into it, it better be a kid. I thought the kids should be the opposite—a small child who's the unstoppable force and the brother who's the immovable object and the way they collide would make some humor."
This sentiment has grown to have a double meaning, as Thompson had to discontinue the strip in September 2012 due to the advancement of his Parkinson's disease. Thompson's work continues to be celebrated in the upcoming release of The Complete Cul de Sac and The Art of Richard Thompson (both to be published by Andrews McMeel), the $100,000 that has been raised and donated to the Michael J. Fox Foundation in Richard's name, and this exhibition, the most extensive display of his work to date.
Engagement Coordinator Caitlin McGurk had an opportunity to interview Richard Thompson on libraries, comics and the creative process.