To Be Continued: Comic Strip Storytelling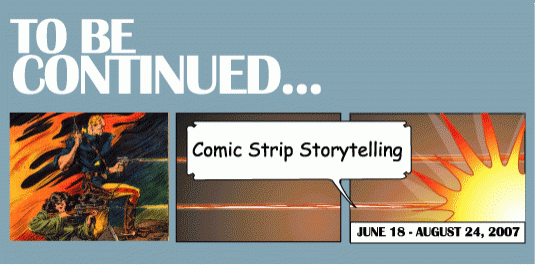 Dates/Times
June 18, 2007 - August 27, 2007

Location
Reading Room Gallery
27 W. 17th Avenue Mall
Columbus Ohio
Will Annie be reunited with Daddy Warbucks? Will L'il Abner ever marry Daisy Mae? Will Pogo win the election? Find out in tomorrow's paper! To Be Continued: Comic Strip Storytelling presents compelling continuity stories from a century of newspaper comic strips. The exhibition features ten examples of stories from the funnies that kept Americans talking, speculating, and, most importantly, buying newspapers.
Before the advent of the TV cliffhanger, there was the story comic strip. Soon after the birth of the newspaper comics in the 1890s, editors and cartoonists discovered that continuity story strips brought readers back day after day to learn what would become of their favorite comic strip characters. In the early 1900's, Lyonel Feininger sent his Kin-der-kids on a wild ocean voyage in a bathtub while Winsor McCay's Little Nemo wandered from one adventure to another in Slumberland's Befuddle Hall.
In the 1920s, cartoonist Sidney Smith received mountains of mail from readers when he killed off Mary Gold, just moments before her true love reached her side, having just been released from jail after being wrongfully accused of stealing. Almost 80 years later, Lynn Johnston received a similar response when she drew the death of the family's beloved dog, Farley in her family strip, For Better or For Worse.
Adventure strips, which reached their heyday in the 1930s and '40s, featured kids like Little Orphan Annie and heroes like Flash Gordon narrowly escaping certain doom week after week. These contrasted with the quotidian stories chronicling the lives of the residents of Gasoline Alley and the hillbilly Li'l Abner, who created a national frenzy when he finally married Daisy Mae in 1952.
Cartoonists have also used story strips to address political and social issues, as Walt Kelly did when his character Pogo campaigned for President in 1952 and as Garry Trudeau did when he drew attention to the AIDS epidemic through the illness and death of his character Andy in Doonesbury.
The stories chosen for this exhibition represent the evolution, the variety and the impact of continuity storytelling in newspaper comics over the last century. This exhibit is part of Storytelling 2007, a year-long celebration of graphic narrative, commemorating the centennial of the birth of master storyteller, Milton Caniff. Caniff is not included in this exhibition because the Cartoon Research Library will be mounting a retrospective exhibition of his work in the fall.