Virtual Symposium: Global Comics and the Rise of Modern Manga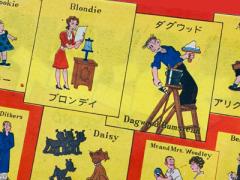 Dates/Times
March 30, 2022
6:00 pm - 8:00 pm
Where does manga come from? What role did U.S. comics play in shaping modern manga? How did manga become a dominant force in global comics in recent decades? Join The Institute for Japanese Studies, University Libraries Area Studies and the Billy Ireland Cartoon Library & Museum as we explore these questions and more in the upcoming virtual symposium "Global Comics and the Rise of Modern Manga." The discussions will be moderated by Dr. Jared Gardner, Professor of English and Director of the Humanities Collaboratory at The Ohio State University and Dr. Kinko Ito, Professor of Sociology at the University of Arkansas Little Rock. Exploring the development of manga in the twentieth century, three international experts in popular culture and comics studies will contest current narratives that treat manga as exotic or disconnected from its American and European counterparts.
The presentations include:
"Transcultural Flows and Kitazawa Rakuten's Early Inspirations"
Ron Stewart, Daito Bunka University
The first panelist, Dr. Ron Stewart, will discuss international influences on Kitazawa Rakuten (1876-1955), arguably Japan's first career comic artist and a major figure in the first decades of the twentieth century. In his paper, "Transcultural Flows and Kitazawa Rakuten's Early Inspirations," Stewart focuses on the increasingly transnational media space that characterized Rakuten's early career from the turn of the twentieth century to the 1920s.
"How Manga Eclipsed Comics"
Eike Exner, Independent Scholar
Dr. Eike Exner will focus on the basis of modern manga as a function of Japanese translations of American comic strips in the 1920s. Drawing on his recent book publication, "Comics and the Origins of Manga, A Revisionist History" (Rutgers University Press, 2021), his paper, "How Manga Eclipsed Comics," asks how Japanese comics eventually surpassed its U.S. and European counterparts economically and in terms of global influence.
"Transnational Encounters between Postwar Japanese Manga and American Comics, 1945-1970s"
Shige "CJ" Suzuki, Baruch College, City University of New York (CUNY)
Dr. Shige "CJ" Suzuki explores how Japanese mangaka (comics creators) employed non-domestic styles and narrative methods to (re-)innovate the medium of manga in the postwar era. In his paper, "Transnational Encounters between Postwar Japanese Manga and American Comics, 1945-1970s," he calls for a transnational perspective that recognizes manga/comics as the complex (and fluid) product of various cultural traditions and media forms.
About the Moderators and Speakers
Eike Exner is the author of the new manuscript "Comics and the Origins of Manga, A Revisionist History" (Rutgers University Press, 2021). He is an independent scholar who has taught at the University of Southern California in Los Angeles and Josai International University in Tokyo. His research has also appeared in the International Journal of Comic Art, ImageTexT and The Comics World, and he has received the John A. Lent Award in Comics Studies.
Jared Gardner is Joseph V. Denney Designated Professor of English at Ohio State, specializing in American literature, comics, film and popular culture. Gardner is the author of "Master Plots: Race and the Founding of an American Literature, 1787-1845," "Projections: Comics and the History of 21st-century Storytelling" and "The Rise and Fall of Early American Magazine Culture." Gardner also serves as director of the Popular Culture Studies program at Ohio State and is a frequent collaborator with the Billy Ireland Cartoon Library & Museum.
Kinko Ito received her MA and PhD in Sociology from The Ohio State University. She is nationally and internationally known for her research on Japanese popular culture (especially manga comics) and the Ainu, the indigenous people of Japan. "A Sociology of Japanese Ladies' Comics: Images of the Life, Loves, and Sexual Fantasies of Adult Japanese Women," her harbinger work on women's comics, the first kind in the world, was published by Edwin Mellen Press in 2011.
Ronald Stewart, a professor in the Department of Sociology at Daito Bunka University, has published papers on representation, cartoons and comics in a number of journals and books in both English and Japanese. In the early 2000s, he was a comic art columnist for "Manga Site" in Japan's largest national newspaper, the Yomiuri Shinbun. Since 2003, he has been a member of the Japan Society for Studies in Cartoons and Comics (recently serving as a society director and as its reviews editor). Currently, he sits on the board of directors for the Kitazawa Rakuten Appreciation Society at Saitama Municipal Cartoon Art Museum.
Shige "CJ" Suzuki is an Associate Professor of Modern Languages and Comparative Literature at Baruch College, CUNY, specializing in comparative literature, film and popular culture. His current research interests include Japanese speculative fiction in different media forms examined through the lens of posthumanism and manga/comics (graphic novels) in conversation with media theories and visual culture studies. His writings can be found on https://baruch-cuny.academia.edu/CJ
Facilitators 
Kay Clopton, PhD, MLIS is the Humanities and Social Sciences librarian for The Ohio State University. She earned her PhD in Comparative Studies studying sound and emotive effects in Japanese manga and North American comics and how they impact the reading experience.
Ann Marie Davis, PhD, MLS is Associate Professor and Japanese Studies Librarian at The OSU Libraries. She manages OSU's world-class Japanese language and global manga collections in consultation with the Bily Ireland Cartoon Library & Museum and International and Area Studies at Thompson Library.
This virtual program will include automated captioning. If you require an accommodation such as live captioning or interpretation to participate in this event, please email libevents@osu.edu as soon as possible. Requests made at least one week prior to the event will generally allow us to provide seamless access, but the university will make every effort to meet requests made after this date.
Image: Chic Young, Blondie (Tokyo: Asahi Shinbunsha, ca. 1945-1952)