What Fools These Mortals Be! The Story of Puck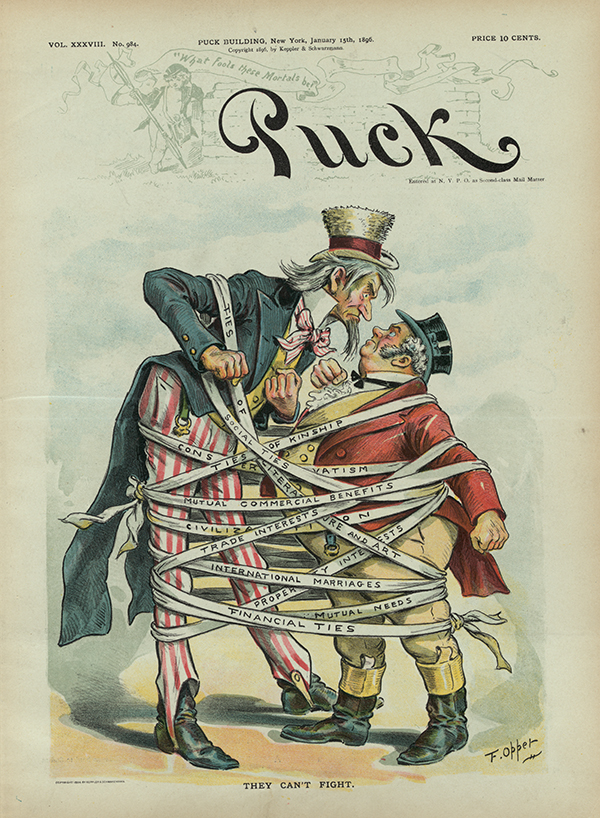 Dates/Times
July 25, 2015 - January 24, 2016

Location
Billy Ireland Cartoon Library & Museum
Sullivant Hall, 1813 N. High St.
Columbus OH 43210
Frederick Burr Opper. "They Can't Fight." Puck (cover), January 15, 1896.
Discover the history and highlights of Puck, America's first and most influential humor magazine of color political cartoons. For nearly forty years, Puck was a training ground and showcase for some of the country's most talented cartoonists. This exhibit will include chromolithographs by Joseph Keppler, Rose O'Neill, Frederick Opper, F.M. Howarth, Rolf Armstrong, Bernhard Gillam, J.S. Pughe, and more. As David Sloane has said in the American Humor Magazine and Comic Periodicals, Puck "created a genre and established a tradition," spawning dozens of imitators. It also led the way for that great American institution, the comics. This show presents some of Puck's greatest cartoons featuring politicians, personalities, and issues that dominated its forty years of publication.Curated by Michael Alexander Kahn and Richard Samuel West. Their recent book, What Fools These Mortals be! The Story of Puck was published by IDW Publishing (October 2014).
Michael Alexander Kahn is the co-author of May it Amuse the Court: Editorial Cartoons of the Supreme Court and the Constitution and more than a dozen scholarly articles on the Presidency and the Supreme Court. He has assembled one of the country's leading collections of political cartoons, which has been featured in numerous magazine articles and in the Grolier Club in New York in 2007. He is a frequent lecturer on the significance of political cartoon art and has developed educational materials based on the art for teaching on the university and high school levels and in museum programs.
Richard Samuel West is the author of several books on American political cartooning, the most recent being Iconoclast in Ink: The Political Cartoons of J.N. Ding Darling (2012), the editor of Target: The Political Cartoon Quarterly (1981-1987), and the political cartoon editor of Inks: Cartoon and Comic Art Studies, published by The Ohio State University (1994-1997). He is the owner of Periodyssey, located in Easthampton MA, which buys and sells significant and unusual American periodicals.