Where We're Coming From: African American Comic Art & Belonging (Online Event)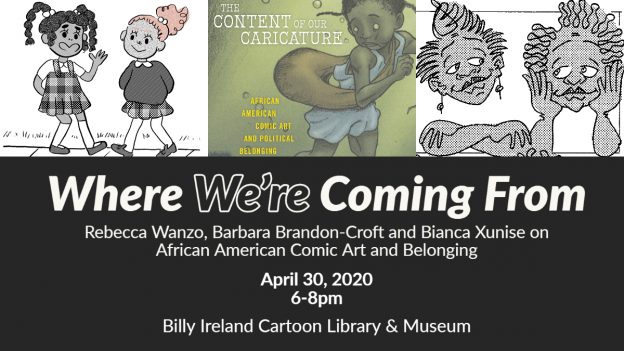 Dates/Times
April 30, 2020
6:00 pm - 8:00 pm
This event is FREE and open to the public. 
Click HERE to register for this event. You will receive a link to join the presentation after you have registered.
Rebecca Wanzo, Associate Professor of Women, Gender and Sexuality Studies at Washington University will discuss her new book, The Content of Our Caricature: African American Comic Art and Political Belonging. Following her presentation, Wanzo will join cartoonists Bianca Xunise and Barbara Brandon-Croft. Xunise and Brandon-Croft's work pushes boundaries to explore the experiences of black women's lives in America. Both are featured in The Billy Ireland Cartoon Library & Museum's current exhibit, Ladies First: A Century of Women's Innovations in Comics and Cartoon Art. 
Cosponsors: Billy Ireland Cartoon Library & Museum, Office of Diversity and Inclusion, Department of African American and African Studies at Ohio State, Pop Culture Studies, Ohio State English, Department of Women's, Gender and Sexuality Studies, Department of Comparative Studies at OSU.
More info on featured guests:
Rebecca Wanzo: https://nyupress.org/9781479889587/the-content-of-our-caricature/
Barbara Brandon-Croft: https://en.wikipedia.org/wiki/Barbara_Brandon-Croft
Bianca Xunise: https://www.biancaxunise.com/