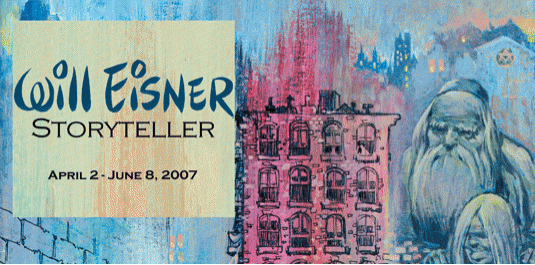 Dates/Times
April 2, 2007 - June 8, 2007

Location
Reading Room Gallery
27 W. 17th Avenue Mall
Columbus Ohio
Will Eisner was one of the great cartoonists of the twentieth century.  He created the comic feature The Spirit, wrote the early graphic novel A Contract with God, and taught succeeding generations of cartoonists for many years at the School of Visual Arts.  Eisner also produced two seminal works of comics theory: Comics and Sequential Art and Graphic Storytelling,.  In the last decade of his life, he wrote or adapted a dozen graphic volumes, culminating with The Plot:  The Secret History of the Protocols of Zion which was published shortly before his death in 2005.
Will Eisner: Storyteller draws from the Cartoon Research Library's Will Eisner Collection to celebrate highlights of his life and career through rare photographs and original art.  The exhibit opens with samples of Eisner's early work and includes two complete Spirit stories from the 1940s as well as art from his recent books such as Sundiata and Last Day in Vietnam.Eisner's contributions to cartooning were recognized through numerous international honors including awards from the prestigious festivals in Angoulême, France, and Barcelona, Spain.   He received the Reuben Award, the National Cartoonists Society's highest honor, in 1998.
On April 19, the Wexner Center for the Arts will host a special free pre-release screening of Will Eisner:  The Spirit of an Artistic Pioneer, a documentary about Eisner, in the Film/Video Theatre at 7 p.m.