Will Eisner Week Research Forum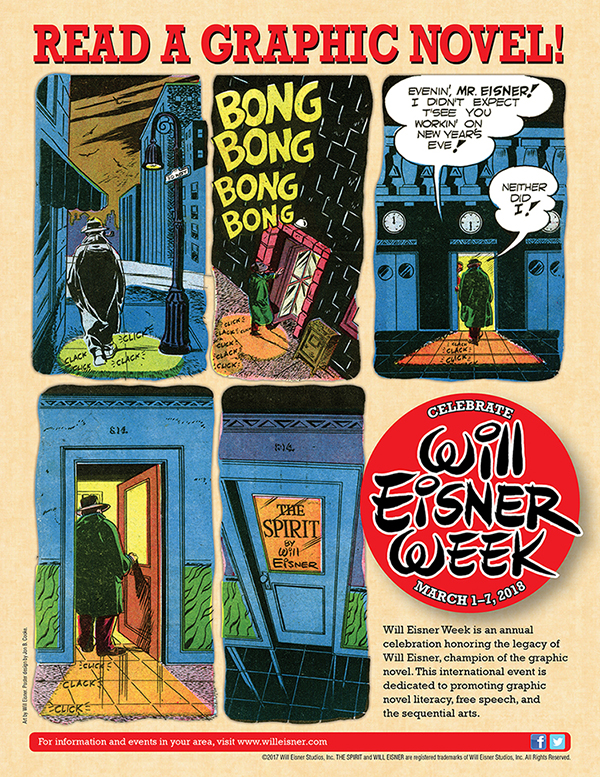 Dates/Times
March 8, 2018
4:00 pm - 7:00 pm
Location
Will Eisner Seminar Room, Billy Ireland Cartoon Library & Musuem
Room 205, Sullivant Hall, 1813 N. High Street
Columbus OH 43210
In honor of Will Eisner Week, visiting scholars Roy T. Cook and Mark Fertig will be joined by local presenters in a symposium devoted to recent comics scholarship.
Roy T Cook  "Multimodal metafiction in comics"
Mark Fertig  "Take that Adolf!: Comic Books During the Second World War"
Margaret Flinn  "Popular Terroir: French Comics as Pastoral Ecocriticism?"
Rachel Miller  "Plugs Pages: Women's Mini Comics Networks of the 1990s"
Roy T Cook is CLA Scholar of the College and John M. Dolan Professor of Philosophy at the University of Minnesota – Twin Cities, and Resident Fellow of the Minnesota Center for Philosophy of Science (MCPS). He is the author of A Dictionary of Philosophical Logic (Edinburgh University Press, 2009), Key Concepts in Philosophy: Paradoxes (Polity, 2013), and The Yablo Paradox: An Essay on Circularity (Oxford University Press, 2014), editor of The Arche Papers on the Mathematics of Abstraction (Springer, 2007), and co-editor of The Art of Comics: A Philosophical Approach (Wiley-Blackwell, 2012, w/ A. Meskin), The Routledge Companion to Comics (Routledge, 2016, w/ A. Meskin and F. Bramlett), and LEGO and Philosophy: Constructing Reality Brick-by-Brick (Wiley-Blackwell, 2017, w/ S. Bacharach) He has also published over a hundred academic articles and essays on mathematical logic, the philosophy of mathematics, and the aesthetics of popular art.
Mark Fertig serves as chair of the Department of Art and Design at Pennsylvania's Susquehanna University, where he founded the program in graphic design. He is a lifelong comic book reader and collector, who, for two years as a teenager, loaded lumber and bags of concrete onto trucks in order to buy a copy of Amazing Fantasy #15. He's the author of two books from Fantagraphics, Take that Adolf! The Fighting Comic Books of the Second World War and Film Noir 101: The 101 Best Film Noir Posters from the 1940s-1950s. His current book project is called Hang 'Em High: 100 Years of Western Movie Posters.
Margaret C. Flinn is Associate Professor of French and of Film Studies at the Ohio State University, and the author of The Social Architecture of French Cinema, 1929-39 (Liverpool UP, 2014). Her teaching and research spans a wide range of topics in 20th and 21st century French and Francophone cinemas, critical theory, and visual culture. Recent articles on French-language comics treat race and disability in Farid Boudjellal's Petit Polio and a series of bandes dessinées commissioned by the Louvre museum.
Rachel R. Miller is a PhD candidate at the Ohio State University and the assistant editor for Inks: The Journal of the Comics Studies Society. She is currently at work on her project "Immaterial Girls: Bedroom Culture and the Ephemeral Archive in the 1990s," about feminist periodical cultures of the 1990s with an emphasis on women's visual art and comics.
Cosponsored by Popular Culture Studies Program and the Department of English