Windows on Death Row exhibit program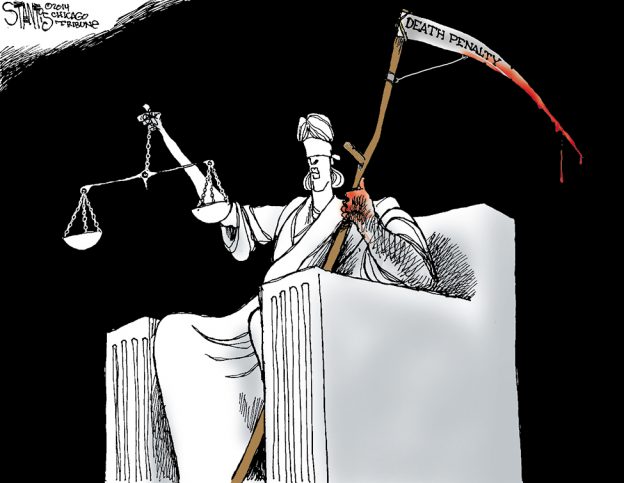 Dates/Times
February 25, 2017
4:00 pm - 8:00 pm
Location
Friends of the Libraries Gallery, Billy Ireland Cartoon Library & Museum
Sullivant Hall, 1813 N. High St.
Columbus Ohio 43210
Join us for an evening of programming to explore Windows On Death Row: Art from Inside and Outside the Prison Walls, with project and exhibit founders, political cartoonist Patrick Chappatte and journalist Anne-Frédérique Widmann, with special guest Ndume Olatushani, a painter and former death-row inmate who was wrongly convicted and imprisoned for 28 years. Piper Kerman, author of Orange is the New Black: My Year in a Women's Prison, will also be joining them to give opening remarks.
All events and gallery entry are FREE and open to the public.
4:00 pm Curators' Tour of Windows On Death Row, museum galleries
5:00-6:30 pm Catered reception, Will Eisner Seminar Room
6:30-8:00 pm Multimedia presentation, Jean and Charles Schulz Lecture Hall
An audience Q & A will follow the presentation.
In a TED-style talk featuring sound, video, art, and journalism, Anne-Frédérique Widmann and Patrick Chappatte will share stories from a world beyond our imaginations as they retrace their journey into the American justice system. Over the course of a year, Widmann and Chappatte established contacts with thirty detainees, visited high security prisons across the country, and led a cartoon workshop for death row inmates. The result of this unique art and documentation project is an exhibit of editorial cartoons and inmate artwork, currently on display at the Billy Ireland Cartoon Library & Museum.
The founders will introduce special guest Ndume Olatushani. Along with his wife Anne-Marie and a team of lawyers, Olatushani was finally released from prison in 2012 after a 20-year battle. His story is remarkable; even in the darkest circumstances, Olatushani continued to fight and keep hope alive. Since his release, he has been working with the Children's Defense Fund, a national organization that provides a voice for children in need.
Piper Kerman will join in giving opening remarks. She currently serves on the board of directors of the Women's Prison Association and the advisory boards of InsideOUT Writers and JustLeadershipUSA, and is involved in a number of prison reform and civil rights organizations. Her accolades include the Justice Trailblazer Award from John Jay College's Center on Media, Crime & Justice (2014), the Constitutional Commentary Award from The Constitution Project, and recognition as a Champion of Justice from the Equal Justice Initiative (2015).
Traveling exhibition organized with curatorial assistance from Anne Hromadka. Artwork gathered with the help of Compassion, R.E.A.C.H., Minutes Before Six, Who Decides Inc., Witness to Innocence, and Art for Justice. Also sponsored by Murder Victims' Families for Human Rights and the Swiss Federal Dept. of Foreign Affairs (FDFA).