Good Grief! Children and Comics: A Collection of Companion Essays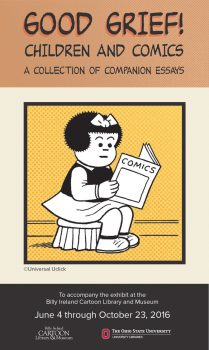 With original essays examining everything from Little Nemo to Calvin and Hobbes, from Batman to the Lumberjanes, from Bone to Maus, this collection of companion essays is your online introduction to the larger questions and contexts of the groundbreaking exhibit, Good Grief! Children and Comics, at the Billy Ireland Cartoon Library and Museum (part of the Ohio State University Libraries).
Citation:  Abate, Michelle Ann, and Joe Sutliff Sanders, eds. Good Grief! Children and Comics. Columbus, OH: Ohio state University Libraries, 2016. PDF. DOI: 10.18061/1811/77539
More information and download the free PDF
---
Billy Ireland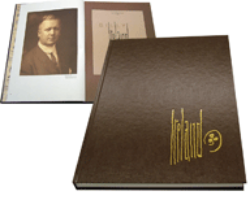 Columbus, Ohio's most beloved cartoonist, Billy Ireland, worked for the Columbus Dispatch from the age of eighteen in 1898 until his death in 1935. Hometown life, everyday events, and ordinary people were important to Ireland. Written by Lucy Shelton Caswell, this is the only printed collection of Ireland's editorial cartoons and spans his entire career. It includes black and white figures as well as color plates from his most popular weekly feature "The Passing Show."
Author: Lucy Shelton Caswell
Price: $35.00 | Shipping: $5.00 (plus $2.63 OH sales tax)
May also be purchased through The Ohio State University Press or Amazon
---
A Gallery of Rogues: Cartoonists' Self-Caricature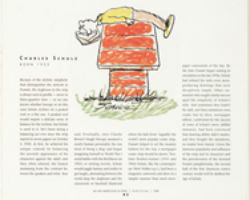 Mark Cohen has amassed about 6,000 items in his cartoon art collection, and of those about 600 are cartoonists' self-caricatures, many never before published. The 154 published here cover a century of American cartooning. With sections devoted to newspaper comic strips, editorial cartoonists, Mad, and other magazine cartoonists, A Gallery of Rogues illustrates through the careers of the cartoonists themselves the history of the medium. Included with each self-mocking portrait is a brief bio of the cartoonist. Artists in this volume include Charles Schulz, Art Spiegelman, Lynn Johnston, Al Jaffee, Scott Adams, Berkeley Breathed, Dale Messick, and Morrie Turner.
Author: Text by R.C. Harvey, 1998
Price: $14.95 | Shipping: $5.00 (plus $1.12 OH sales tax)
May also be purchased through The Ohio State University Press or Amazon
Other Comics and Comic Studies publications available through The Ohio State University Press