Gallery Visit Reservation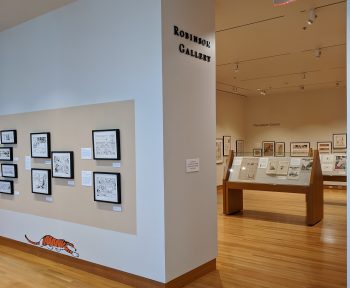 RESERVATIONS ARE NOT NEEDED FOR GALLERY VISITS WALK-IN VISITORS ARE WELCOME
Gallery hours are Thursday through Sunday, 1:00 pm–5:00 pm.
All walk-in visitors are welcome. Beginning Sunday, July 11, we are no longer taking reservations. You will be asked to check in at the desk and give your name and email address or phone number so we can maintain records for contact tracing per the university guidelines.
For groups larger than 10 people, please call 614-292-0538 or email cartoons.osu.edu at least one week in advance to plan your visit. 
To help keep our community healthy:
Please check in with the gallery attendant and provide your name and email or phone number for potential contact tracing.
Indoor masking: Effective August 2, 2021, students, faculty, staff and visitors to all Ohio State campuses and medical facilities are required to wear masks indoors, regardless of their vaccination status.
Social distancing is required for individuals who are not fully vaccinated.
The number of visitors in the galleries is limited.
Please leave large bags at home.
To learn more about Ohio State's safe and healthy guidelines, click here.