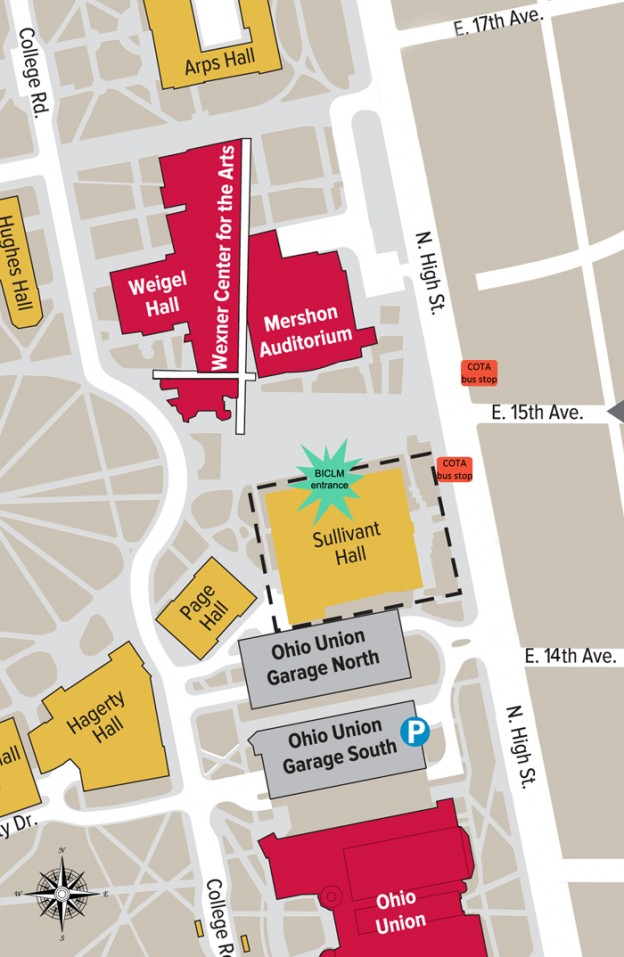 Museum Gallery Hours
The Billy Ireland Cartoon Library & Museum exhibition galleries are open to the public and admission is FREE. *Masks are required. 
Reservations are required, please visit cartoons.osu.edu/gallery-visit-reservation to book your visit.
Monday – Friday: Closed
Saturday-Sunday: 1:00-5:00 pm, reservation required
[The current exhibits are on display through Sunday, April 18, 2021. The Museum will be temporarily closed from Monday, April 19 through Friday, June 11, 2021, while we complete prescheduled maintenance. When we reopen in June, Into the Swamp will remain on display through October 31, 2021.]
Please note that you will be asked to place coats, backpacks, large purses and other large bags, and umbrellas in designated areas at entrance to the galleries or in the lockers provided on the main floor. Flash photography in the galleries is not permitted.
Library Reading Room Hours
Limited hours by appointment only
Monday – Friday:
Open by appointment: 10:00 am -12:00 pm
Closed: 12:00 – 1:30 pm
Open by appointment: 1:30 – 3:30 pm
Please contact us for research and reproduction services by emailing cartoons@osu.edu or calling 614-292-0538.
Please note that we are a special collections library so our stacks are not open for browsing. Items from our stacks must be requested. See Visiting the Library Reading Room for additional information and online forms to request items before your visit.
Office Hours
Monday – Friday: Closed
Saturday + Sunday:  Closed
(Call 614-292-0538 for information)
Museum, Library and Office Closings
New Year's Day Holiday: January 1, 2021
Martin Luther King Day:  January 18, 2021
Memorial Day:  May 31, 2021
Independence Day: July 5, 2021
Labor Day:  September 6, 2021
Veteran's Day:  November 11, 2021
Thanksgiving Holiday: November 25-26, 2021
Christmas Holiday: December 23-24, 2021
New Year's Day Holiday: December 31, 2022