Join us on Saturday, May 21, to celebrate the opening of two new exhibits! Opening reception for STILL… from 6–8 pm, Museum Galleries will open at 1:00 pm.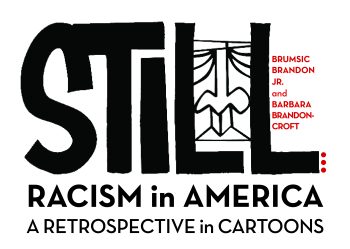 STILL…Racism In America – A Retrospective in Cartoons: Pioneering father/daughter cartoonists Brumsic Brandon, Jr. (1927– 2014) and Barbara Brandon-Croft (1958– ) chronicled the nation's cultural landscape in their comic strips through the lens of racism. The elder Brandon, who created Luther in the late sixties, and was later syndicated by the Los Angeles Times Syndicate until 1986, was also known for his blistering editorial cartoons. Where I'm Coming From is the work of his youngest daughter, the nation's first Black woman cartoonist in the mainstream press; it debuted in 1989 in the Detroit Free Press. Universal Press Syndicate later distributed her provocative feature until 2005. For six decades, their respective pens lay bare the truth: Nothing has changed. This retrospective reveals how vividly the specter of racism remains in America… STILL.
This exhibition originated at Medialia Gallery in New York City. The Ohio State University's installation includes original Luther cartoons from the Brumsic Brandon, Jr. Collection at the Billy Ireland Cartoon Library & Museum. STILL is curated by Tara Nakashima Donahue. 
Celebrating Sparky: Charles M. Schulz and Peanuts: Charles M. Schulz, known as Sparky to his family and friends, single-handedly created 17,897 Peanuts comic strips during a span of almost fifty years. At the time of Schulz's retirement in 1999, his creation ran in more than 26,000 newspapers, was translated into twenty-one languages in seventy-five countries, and had a daily readership estimated to be 355 million. Peanuts became a worldwide cultural phenomenon in the second half of the twentieth century. Its impact can be seen on everything from space travel and classical music to the Broadway stage, merchandising, and even the English language.  
This exhibition celebrates the centennial of Schulz's birth and highlights the lasting legacy of his life and work. Schulz's own words guide visitors to explore the themes of friendship, connectedness, unrequited love, and insecurity that made the strip resonate with so many fans.  
Celebrating Sparky is curated by Lucy Shelton Caswell and mounted in partnership with the Charles M. Schulz Museum and Research Center.