The Dog Show: Gallery of Cartoon Dogs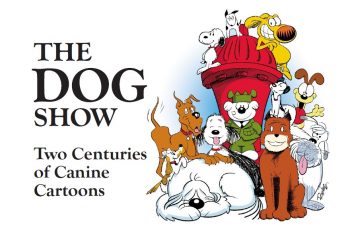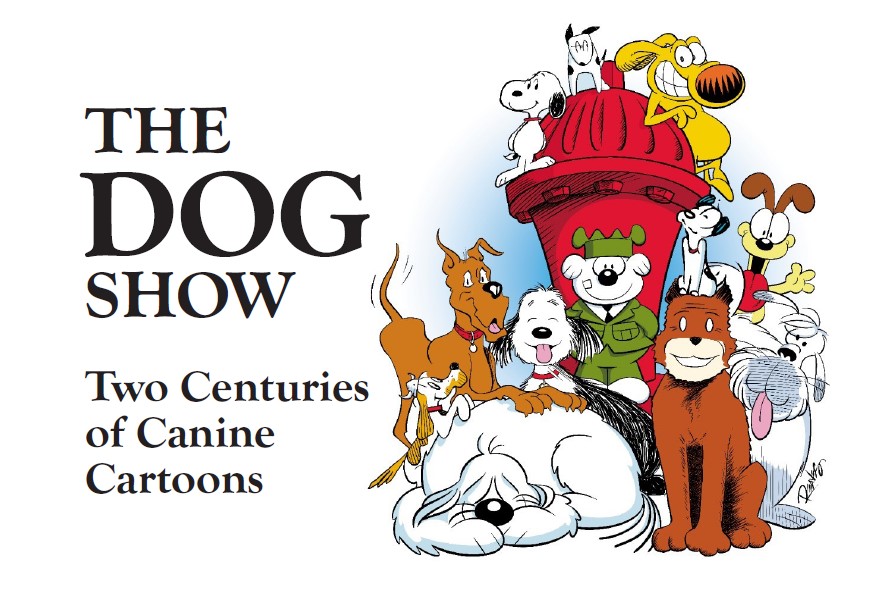 Gallery of Cartoon Dogs
The Dog Show: Two Centuries of Canine Cartoons features more than one hundred cartoon dogs from the Billy Ireland Cartoon Library & Museum collections and on loan for the exhibition from private collections. Here's a list of the dogs on display
(*note this is a work in progress—additional dogs are being added)
Classic Canine Characters
Ace – Detective Comics No. 254, Sheldon Moldoff & Ira Schnapp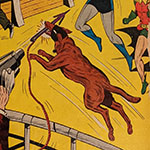 Astro – The Jetsons , Gold Key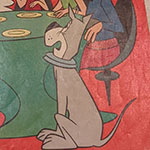 Andy – Mark Trail , Ed Dodd
Augie Doggie – Augie Doggie no. 1, Harvey Eisenberg, Gold Key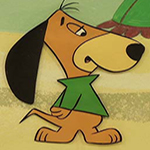 Barfy & Sam – The Family Circus, Bil Keane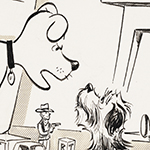 Beagle Boys – Walt Disney The Beagle Boys, Pete Alvarado (pencils) and Larry Mayer (inks) , Gold Key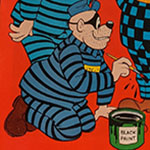 Beauregard Bugleboy – Pogo, Walt Kelly



Betty Boop – Betty Boop's First Model Chart, Grim Natwick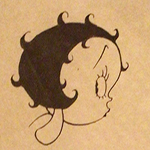 Bimbo –Talkartoons , Robert Little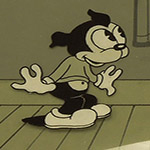 Biscuit – Stone Soup, Jan Eliot
Bitsy – Marvin, Tom Armstrong

Bullet – Barney Google and Snuffy Smith, John Rose
Charlie & Itchy – All Dogs Go to Heaven (on loan from private collection)
Cosmo the Space Dog – Guardians of the Galaxy Annual no.1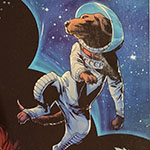 Daisy – Blondie, Murat "Chic" Young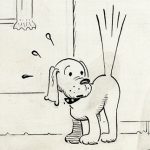 Dawg – Hi and Lois, Mort Walker and Dik Browne


Deputy Dawg –  Deputy Dawg No. 1238, Fred Fredericks, Dell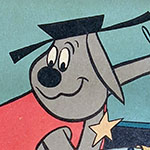 Devil – The Phantom, Lee Falk and Sy Barry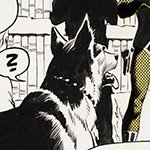 Dogbert – Dilbert and Dogbert, Scott Adams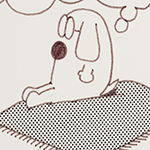 Dog Man – Dog Man, Dav Pilkey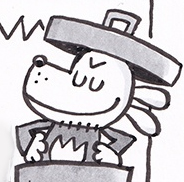 Dollar – Richie Rich No. 3,  Harvey Classics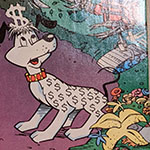 Droopy – Drag Along Droopy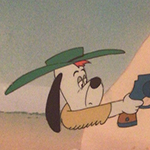 Earl – Mutts, Patrick McDonnell

Fang – The Duplex
Farley & Edgar – For Better or For Worse, Lynn Johnston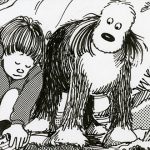 Fifi – Bringing Up Father, George McManus
Flip – Rusty Riley, Frank Godwin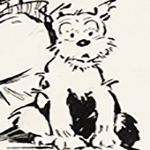 General Lee – Wee Pals, Morrie Turner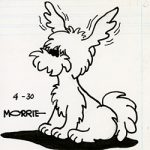 Goofy –  Walt Disney's Goofy no.468,  Dick Moores
Grimmy – Mother Goose & Grimm,  Mike Peters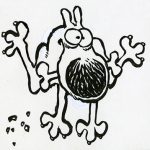 Hector the Bulldog – Looney Tunes No. 40, Mike DeCarlo, DC
Hot Dog – Jughead's Pal Hot Dog no.1, Nate Butler, Archie Comics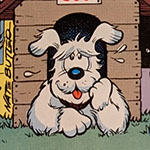 Howard Huge – Howard Huge , Bunny Hoest
Huckleberry Hound – Huckleberry Hound No. 990,  Harvey Eisenberg, Dell Publishing Co.
Judge Rummy – Judge Rummy, Tad Dorgen
Krypto –  Adventure Comics no.310 , Curt Swan & George Klein DC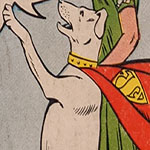 Lady and the Tramp – Lady and the Tramp (on loan from private collection)
Lassie – Lassie No. 10, Morris Gollub, Dell Comic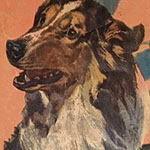 Lockjaw – Ms. Marvel no.8,  Jamie McKelvie & Matthew Wilson Marvel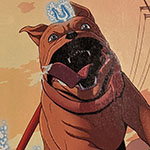 Marmaduke – Marmaduke, Brad Anderson
Mighty Manfred the Wonder Dog – Tom Terrific no. 3, Gene Deitch (creator) Pines Comics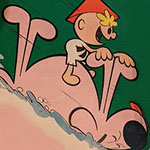 Mr. Peabody – Mr. Peabody and Sherman no.1, Jorge Molongo IDW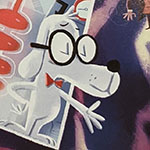 Mugg – Dick Tracy, Chester Gould 
Muttsy – Sad Sack's Muttsy the Talking Dog no.105, George Baker, Harvey Comics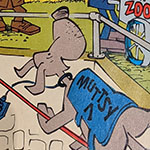 Napoleon – Napoleon and Uncle Elby no. 1, Stephen Douglas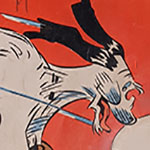 Odie – Garfield, Jim Davis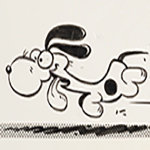 Officer Pupp – Krazy Kat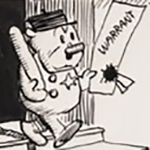 Otto – Beetle Bailey, Mort Walker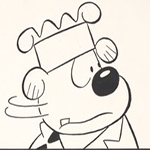 Patches – Gamin and Patches, Mort Walker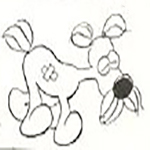 Pluto – Bone Trouble,  Norm Ferguson (on loan from private collection)
Pongo – One Hundred and One Dalmatians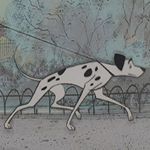 Pup Dog – Pogo,  Walt Kelly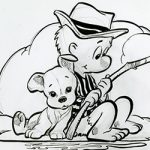 Ren – The Ren and Stimpy Show no.1, Marvel Comics
Rex the Wonder Dog – Adventures of Rex the Wonder Dog, Gil Kane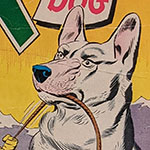 Rivets – Rivets, George Sixta
Rover –  Red and Rover, Brian Basset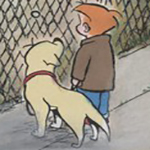 Ruff – Dennis the Menace, Hank Ketcham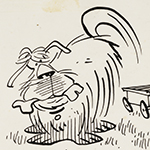 Ruff & Reddy – Ruff and Reddy no. 9, Mac Rey Dell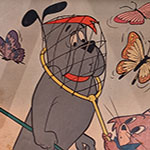 Rufferto – Sergio Aragonés Groo and Rufferto, Sergio Aragonés Dark Horse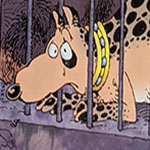 Sandy – Little Orphan Annie, Leonard Starr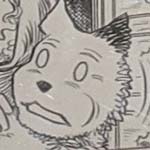 Santa's Little Helper – Simpsons Comics #45,Bongo
Scamp – Scamp by Bob Grant (pencils) and Manuel Gonzales (inks)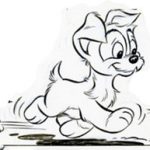 Schnappsy – Dingle Hoofer und His Dog, Herald H. Kerr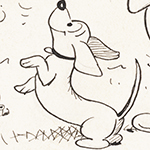 Scooby Doo – Hanna Barbera's Scooby Doo no. 15, Joe Staton, DC
Sinbad – Sinbad, Edwina Dumm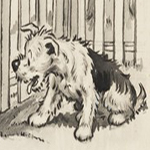 Snert – Hagar the Horrible, Dik Browne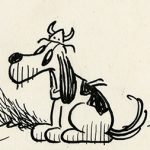 Snoopy – Peanuts,  Charles Schulz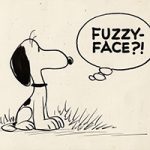 Spare Ribs & Attaboy – Toots and Casper, Jimmy Murphy
Spike and Tyke – MGM's Spike and Tyke no. 8, Dell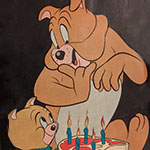 Stripe – Tiger by Bud Blake

Tige – Buster Brown, Richard Outcault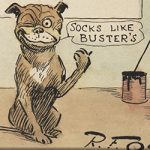 Trots – Trots and Bonnie, Shary Flenniken
Uncle Sam – Golden Eyes and Her Hero "Bill" Over There, Nell Brinkley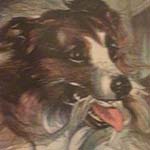 Underdog – Underdog no. 2, Frank Johnson, Charlton Comics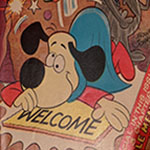 Zero – Little Annie Rooney, Darell McClure (writer) and Nicolas Afonsky (artist)
Zipper – Zipper, Bill Holman
Miscellaneous Mutts
Our exhibit includes many additional dog characters that are not named. These unnamed mutts are featured in works from:
George Booth – Everything has been getting on his nerves, Doctor…
Gary Brooks – Ignoring him isn't working…maybe we should just step on him!
Ernie Bushmiller – Nancy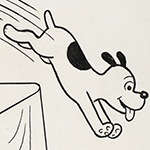 E. Simms Campbell – Cuties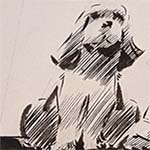 Eldon Dedini – Dog at Restaurant Window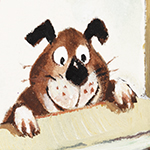 Kim Deitch – Doggie Diners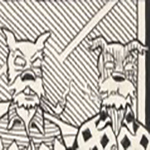 Rick Detorie – Artwork for 2 Recycled Paper Greetings, greeting cards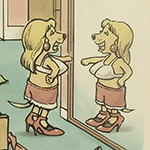 John Doyle – Jack in Office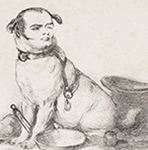 Bill Gallo – In Honor of the Dog Show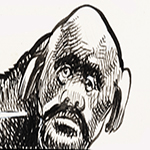 Eric Gurney – Dogs in the Ring at an Outside Dog Show
George Gately – Heathcliff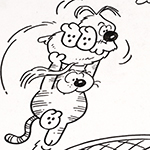 Jeff MacNelly – A truck-eatin' dawg?… Well, I got worse news Griffin, I got this thing floored!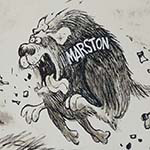 James Merritt Ives – The Old Bulldog on the Right Track
Mike Luckovich – Sending Bush a Message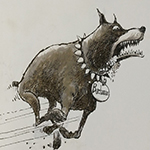 Frederick Burr Opper – Wouldn't it Make you Mad?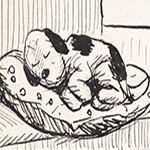 Hilary Price – Rhymes with Orange
Arnold Roth – Obedience demonstration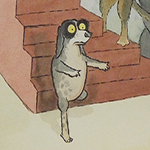 Bill Sanders – Tomorrow! Tomorrow! I hope there'll be tomorrow!!
Bill Schorr –  Man of the Decade
Jeff Stahler – Moderately Confused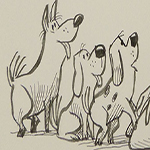 H.T Webster – Life's darkest moment – The hypochondriac buys a dog
Dick Wright – The U.N. Watchdog
Jack Zeigler – O.K., O.K., here's 'Lassie, Come Home' again! Now are you happy?
 Eugene Zimmerman – Ending of the Dog Days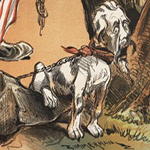 More Dogs
Our collections include many additional dog characters that are not represented in The Dog Show including:
Norbert –  Norbert, George Fett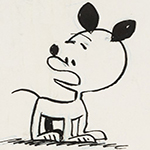 Top Image Credit: Art by Eric Reaves. Snoopy © PNTS; Biscuit © Jan Eliot; Grimmy © Grimmy, Inc.; Marmaduke © UFS; Farley © Lynn Johnston Productions, Inc.; Otto © Comicana, Inc.; Earl © Patrick McDonnell; Odie © Paws Inc.; Snert © King Features Syndicate, Inc.; Dawg © Comicana, Inc.; Sandy © Tribune Media Services, Inc.; and Ruff © North America Syndicate, Inc. Used by permission.