Billy Ireland Cartoon Library & Museum
The Ohio State University
110 Sullivant Hall
1813 N. High Street
Columbus, OH 43210
t 614.292.0538 | f 614.292.9101
email: cartoons@osu.edu
website: cartoons.osu.edu
blog: http://library.osu.edu/blogs/cartoons/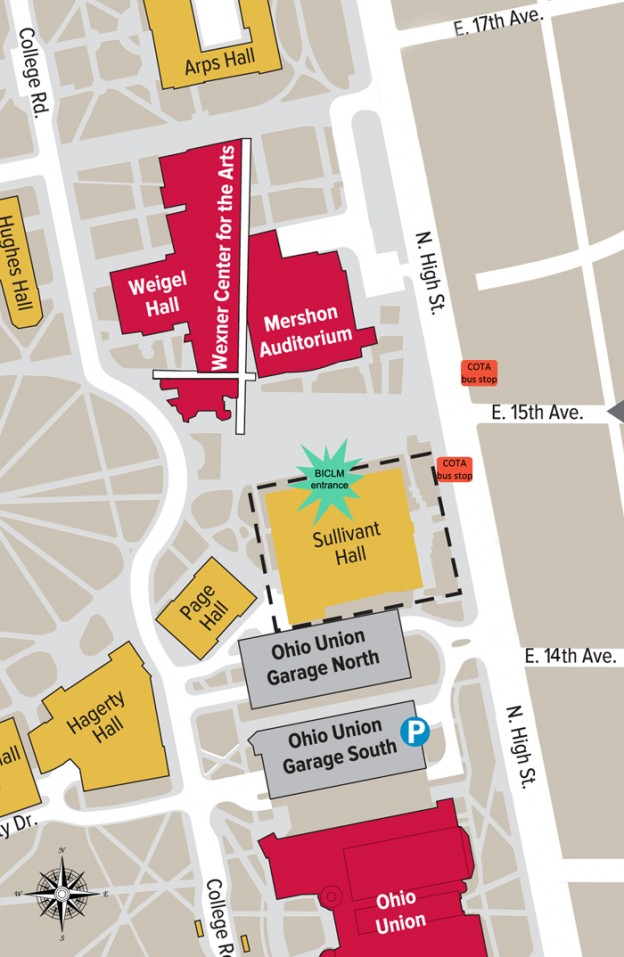 Museum Gallery Hours
The Billy Ireland Cartoon Library & Museum exhibition galleries are open to the public and admission is FREE.  
Monday: Closed
Tuesday through Sunday:  1:00 – 5:00 pm

(Closed December 22-25; December 30, 31 and January 1)
Please note that you will be asked to place coats, backpacks, large purses and bags, and umbrellas in designated areas at the entrance to the galleries or in lockers provided on the main floor. Flash photography in the galleries is not permitted.

Library Reading Room Hours
Monday through Friday:  9:00 – 5:00 pm
Saturday: Closed
Sunday: 1:00 – 5:00 pm (during Fall and Spring semesters; closed during Summer semester) 
(Closed December 24-25 and January 1; open by appointment only December 26-28 and December 31) 
(Closed during holiday weekends; open by appointment during semester breaks)
(Call 614-292-6369 for information)
Please note that we are a special collections library so our stacks are not open for browsing. Items from our stacks must be requested. See Visiting the Reading Room. However, our reading room does have materials available for browsing.
Office Hours
Monday through Friday: 9:00 – 5:00 pm
Saturday + Sunday:  Closed
(Call 614-292-0538 for information)
 (Closed December 24-25 and January 1)
Museum, Library and Office Closings
Martin Luther King Day:  January 15, 2018
Memorial Day:  May 28, 2018
Independence Day:  July 4, 2018
Labor Day:  September 3, 2018
Veteran's Day:  November 12, 2018
Thanksgiving Day Holiday:  November 22-24, 2018
Christmas Day Holiday:  December 22-25, 2018
New Year's Day Holiday:  December 30, 2018-January 1, 2019
 Directions
Directions to the Ohio State University can be found at the Visitors web site.  Entry to the Billy Ireland Cartoon Library & Museum is located on the North side of Sullivant Hall (Campus Map). The reading room is on the West (right) side of the lobby, the office suite (Room 110) is located on the East (left) side, and the galleries are located on the second level.
For area construction announcements that may obstruct traffic on the OSU campus and surrounding community, please visit GO43210 
Public parking for the Billy Ireland Cartoon Library & Museum is available in the Ohio Union South Garage just South of Sullivant Hall and North of the Ohio Union with access from High Street and College Road.
Additional parking is available during off-peak hours at the Ohio Union North Garage just north of the Ohio Union South Garage. Visitors may utilize this garage from 4 pm – 3 am Monday through Friday and all day Saturday and Sunday.
Accessible parking spaces are designated in the Ohio Union Garages
All parking areas on campus are subject to football game day parking policies on home football Saturdays. Please expect increased traffic and a higher demand for parking in the campus area on those days.
For further information, visit CampusParc. View Parking Map.
Bus Service
Central Ohio Transit Authority (COTA) buses provide direct and easy access to the Billy Ireland Cartoon Library & Museum from downtown and other city and suburban neighborhoods. The #2 bus runs north and south on High Street and stops at 15th Avenue from each direction. COTA buses 18, 31, and 84 also stop at North High Street at 15th Avenue.
Area Accommodations
The University Hospitality District (UHD) provides visitors information on all of Columbus' best hotels, appropriate for any business or personal travel. All located in or around the University District, you are conveniently located next door to some of Ohio's greatest shopping, dining, and attractions.
The Blackwell on the OSU campus
Fairfield Inn & Suites Columbus (Marriott)
Hampton Inn & Suites Columbus OSU
The Hilton-Garden Inn – University Area
Red Roof Inn Plus Columbus/OSU
SpringHill Suites – Columbus/OSU
Hampton Inn & Suites Columbus-Downtown
Hyatt Regency Columbus downtown in the Arena District
For information about other hotels and lodging around the Billy Ireland Cartoon Library & Museum and Ohio State University campus area see Ohio State's Visitors web site.
Experience Columbus, the Greater Columbus Convention and Visitors Bureau's web site, provides up-to-date information on hotels, motels, and bed-and-breakfast inns in the Columbus area as well as restaurants and activities to enjoy during your stay.
*Inclusion on this list in no way implies an endorsement or recommendation by The Ohio State University Libraries. This list is compiled only for informational purposes and is by no means exhaustive or comprehensive. 
Tobacco Use
The Ohio State University, in an effort to promote the health and well-being of all of its employees, students ,and visitors, has chosen to maintain a tobacco free environment. The use of all types of tobacco product is prohibited in all university buildings and on all university-owned, leased or managed properties, including parking lots, garages and all outside areas. For more information, please refer to the university's tobacco-free policy.