Billy Ireland Cartoon Library & Museum
The Ohio State University
110 Sullivant Hall
1813 N. High Street
Columbus, OH 43210
t 614.292.0538 | f 614.292.9101
email: cartoons@osu.edu
website: cartoons.osu.edu
blog: http://library.osu.edu/blogs/cartoons/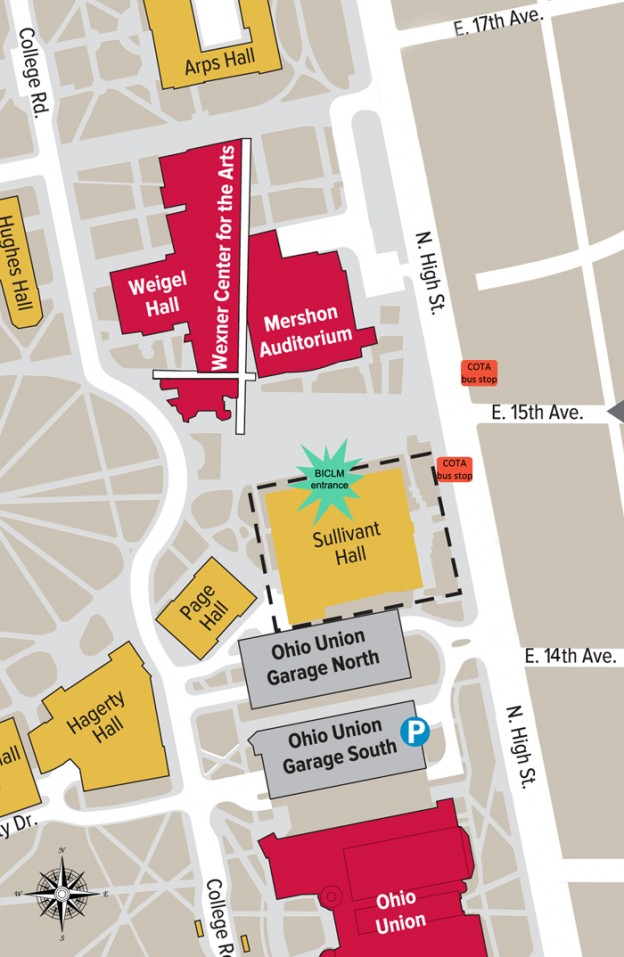 Museum Gallery Hours
***The Billy Ireland Museum Galleries are CLOSED for a planned exhibition changeover beginning Monday, November 20, through Tuesday, December 12, 2023.***
The Billy Ireland Cartoon Library & Museum exhibition galleries are open to the public and admission is FREE. Walk-in visitors are welcome. For groups larger than 10 people, please call 614-292-0538 or email cartoons@osu.edu at least three weeks in advance to plan your visit.  *Masks are optional.
Monday: Closed
Tuesday–Sunday: Open 1:00–5:00pm
Please note that you will be asked to place coats, backpacks, large purses and bags, and umbrellas in designated areas at the entrance to the galleries or in lockers provided in the gallery or on the main floor. Non-flash photography in the galleries is permitted.
360 VIRTUAL TOUR: You can see a 360 tour of our space here to get an idea of the space before you visit.
Library Reading Room Hours
Monday – Friday:
Open, appointments recommended: 9:30 am–4:30 pm
Closed: Saturday-Sunday
Please note that we are a special collections library, so our stacks are not open for browsing. Items from our stacks must be requested. See Visiting the Library Reading Room for additional information and online forms to request items before your visit.
*Masks are optional
Office Hours
Monday-Friday: Open by appointment. Call 614-292-0538 to schedule.
Entry to the Billy Ireland Cartoon Library & Museum is located on the North side of Sullivant Hall (Campus Map). The reading room (Room 100) is on the West (right) side of the lobby, the office suite (Room 110) is located on the East (left) side, and the galleries and Will Eisner Seminar Room are located on the second level.
Construction – Ohio State has begun work on the 15th+HIGH construction project and the new Arts District. For area construction announcements that may obstruct traffic on the OSU campus and surrounding community, please visit GO43210 
Parking
**FOOTBALL SATURDAY PARKING ANNOUNCEMENT: Saturday, September 9 — expect major traffic, parking and transportation impacts due to the home football game. ***
Visitor parking is available anytime in Ohio Union South Parking Garage (1759 N. High St) South of Sullivant Hall and north of the Ohio Union with entrance from High Street. Rates, payment information, and vehicle clearance limits can be found on the CampusParc page. Pay for parking with a credit card upon exiting (pull up to the kiosk at the exit) or with cash or card at the walk-up kiosk located by the stairs.
*Please note that the Billy Ireland Cartoon Library and Museum does not validate parking.
Visitor parking after 4pm on weekdays and all day on weekends at:
Ohio Union North Garage (1780 N. High St.) South of Sullivant Hall and north of the Ohio Union South Garage with entrance from High St. ***CLOSED MAY–AUGUST 2023***
Arps Garage (1990 College Rd.) to the north of the Wexner Center with entrances off High St. and College Rd.
Accessible parking spaces and designated garages. Visitor ADA Accessible Parking
(Click on "Find ADA Parking" in the left sidebar of that page to view a map of ADA-accessible parking on campus)
All parking areas on campus are subject to football game day parking policies on home football Saturdays. Please expect increased traffic and a higher demand for parking in the campus area on those days.
For the most up-to-date parking information for the Ohio State University campus visit CampusParc. View Parking Map.
Additional street parking may be available. Visit the City of Columbus Parking Services page for a map and more information.
Bus Service
Central Ohio Transit Authority (COTA) buses provide direct and easy access to the Billy Ireland Cartoon Library & Museum from downtown and other city and suburban neighborhoods. The #2 bus runs north and south on High Street and stops at 15th Avenue from each direction. COTA buses 18, 31, and 84 also stop at North High Street at 15th Avenue.
Bus Parking for Large Group Visits
Please contact us at least three weeks prior to your visit for more information on bus parking and drop-off locations.
Visitor Drop-Off Location
The small, metered parking area on the High Street side of Mershon Auditorium (entrance from High Street at 17th Ave.) may be used as a drop-off and pick-up point for visitors. A very limited number of designated accessible parking spaces are located in that lot.
Area Accommodations
The University Hospitality District (UHD) provides visitors information on all of Columbus' best hotels, appropriate for any business or personal travel. All located in or around the University District, you are conveniently located next door to some of Ohio's greatest shopping, dining, and attractions.
Experience Columbus, the Greater Columbus Convention and Visitors Bureau's web site, provides up-to-date information on hotels, motels, and bed-and-breakfast inns in the Columbus area as well as restaurants and activities to enjoy during your stay.
*Inclusion on this list in no way implies an endorsement or recommendation by The Ohio State University Libraries. This list is compiled only for informational purposes and is by no means exhaustive or comprehensive. 
Tobacco Use
The Ohio State University, in an effort to promote the health and well-being of all of its employees, students ,and visitors, has chosen to maintain a tobacco free environment. The use of all types of tobacco product is prohibited in all university buildings and on all university-owned, leased or managed properties, including parking lots, garages and all outside areas. For more information, please refer to the university's tobacco-free policy.