I

n 1907, at the tender age of twenty-two, Nell Brinkley came to New York to draw for the Hearst syndicate. Within a year, she had become a household name. Flo Ziegfeld dressed his dancers as "Brinkley Girls," in the Ziegfeld Follies. Three popular songs were written about her. Women, aspiring to the masses of curly hair with which Nell adorned her creations, could buy Nell Brinkley Hair Curlers for ten cents a card. Young girls cut out and saved her drawings, copied them, colored them, and pasted them in scrapbooks. Her beautiful Brinkley Girls took over from the Gibson Girls.

Although she contributed one color cover to Hearst's American Sunday magazine in 1913, most of Nell's work consisted of daily black and white drawings with her commentary beneath them. It was not until March 31,1918, that Hearst began running her color covers in the now-renamed American Weekly, with "Golden Eyes and Her Hero, Bill." Obviously influenced by the silent movie serials of her day, and mirroring the intense patriotism of World War l America, the series recounts the adventures of Nell's heroine, Golden Eyes, whose sweetheart, Bill, goes off to war. Bill sends Golden Eyes his collie, Uncle Sam, a furry pre-Lassie hero of the canine persuasion, and the girl and her dog have adventures together.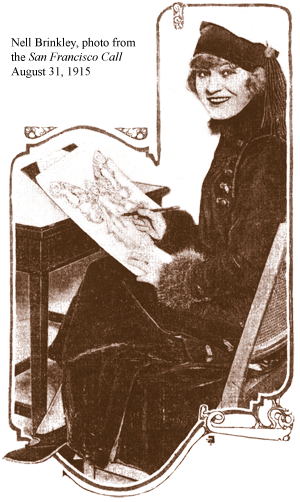 After Uncle Sam catches a German spy lurking in Golden Eyes' garden, the two set out for Europe to join Bill in France. There Golden Eyes dons a Red Cross uniform and drives an ambulance. When the ambulance crashes, she is captured by German Captain Von Schwartzenburg, a classic silent movie villain if ever there was one. At this point, the title of the series changes to "Golden Eyes and her Hero, Bill, Over There."
What Von Schwartzenburg has in mind for Golden Eyes is the traditional Fate Worse Than Death, but she plays Mata Hari and steals his secret plans. Just as Von Schwartzenburg is about to shoot her, she's rescued by Bill, who has been fetched by the trusty Uncle Sam. Later, Golden Eyes and Uncle Sam, hiding in No Man's Land, overhear the Germans plan to attack Bill's regiment. Arriving too late to warn him, Golden Eyes finds him wounded on the battlefield, and drags him to safety. The girl, the boy, and the dog each get medals. Golden Eyes marries Bill, and, the war ended, the three of them settle in France.
If Nell Brinkley's writing is a bit overblown, that was the style of the times. Anyone who loves silent movies can enjoy the Golden Eyes series, a gorgeously drawn page turner - and in its earnest Edwardian way, quite feminist, starring a heroine who saves the hero.
Brinkley followed up the Golden Eyes series with "Kathleen and the Great Secret," another amazingly feminist cliffhanger that ran for eighteen weeks, from 1920 to 1921. In this series, Kathleen rescues her kidnapped fiancé, who has invented something that sounds mightily like atomic power, from the clutches of spies who want his secret formula.

In Brinkley's next series, "Betty and Billy and their Love Through the Ages," the lovers gaze into a crystal ball and see all their former lives, from cave sweethearts to the American revolution (she's a Tory and he's Revolutionary). This lush series ran for twenty two weeks.
After Betty and Billy, Brinkley's style changed. Her American Weekly covers grew simpler, more art deco in style, compared to the very art nouveau look of her three earlier series, and instead of one full page drawing each week, they became proto-comics, full pages of continuity, but without panels or speech balloons. And instead of rip-roaring tales told with breathless prose, the stories, which continued throughout the 1920s, are written in simple verse, and star pretty flappers. Brinkley's art is, as always, exquisite in these stories, but I miss the romantically earnest feminism of her earlier series, which I consider her best work.
—Trina Robbins
Trina Robbins writes comics and graphic novels, and books about, among other things, comics and graphic novels. Her book, The Art of Nell Brinkley, will be published by Fantagraphics in 2009.
---
The Ohio State University Libraries / Conditions of Use
The materials on this Website have been made available for use in research, teaching and private study. For these purposes, you may reproduce (print, make photocopies, or download) materials from this site without further permission on the condition that you provide the following attribution of the source on all copies: San Francisco Academy of Comic Art Collection, The Ohio State Univeristy Cartoon Research Library. For any other use, please contact The Ohio State University Cartoon Research Library [e-mail cartoons@osu.edu or phone 614-292-0538]. All terms of use specified at http://library.osu.edu/sites/dlib/terms.html must be observed.