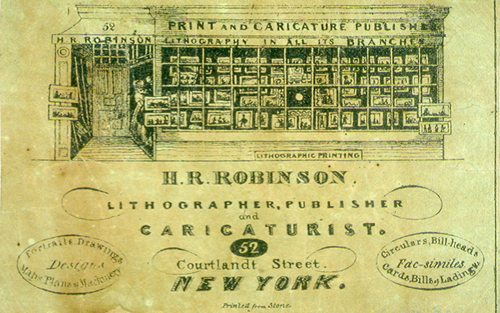 Trade Card of H. R. Robinson
1840
Courtesy, American Antiquarian Society
Henry R. Robinson's trade card depicts his shop displaying lithographic prints for sale. In addition to print shops, there is evidence to suggest that print sellers, sometimes young boys, would buy the prints in bulk then sell them on the street. Political prints may also have been commissioned and distributed by the increasingly-organized national political parties.
Little is known about Henry R. Robinson, the most prolific publisher of lithographed political cartoons during this time period. He was an ardent supporter of the Whig party, which came into existence in the early 1830s to oppose President Andrew Jackson and his policies. Most of the cartoons shown in this exhibition are critical of Jackson and his party, the Democrats.
Robinson employed different artists to create the cartoons he published. The most prominent during this time period were Edward W. Clay and Napoleon Sarony. Clay was admitted to the bar, but instead of practicing law, he became the most active political cartoonist of the Jacksonian era. Sarony, one of the more talented artists of the time, worked for Robinson and Nathanial Currier (founder of the famous lithographic house Currier and Ives) before opening his own lithography business in the late 1840s. He later abandoned lithography in favor of the rapidly expanding business of photography. He is best known for his photographic portraits of theater personalities.