Depicting Mexico and Modernism: Gordo by Gus Arriola // Representando México y el modernismo: Gordo de Gus Arriola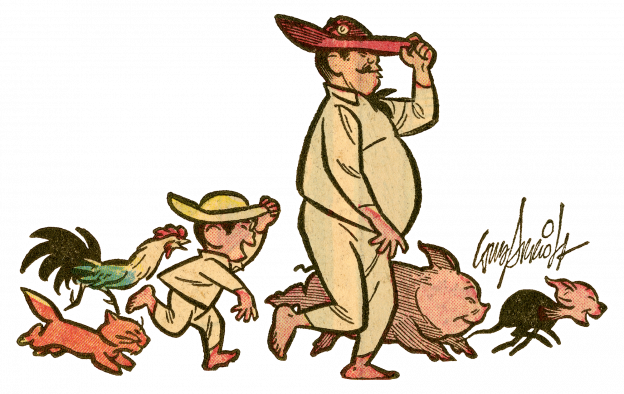 Dates/Times
December 13, 2023 - May 5, 2024

Location
Robinson Gallery, Billy Ireland Cartoon Library & Museum
Sullivant Hall, 1813 N. High St.
Columbus OH 43210
As the first retrospective on Gordo (1941-1985), this exhibit celebrates the dazzling artistry of Mexican-American cartoonist Gustavo 'Gus' Arriola (1917-2008).
Gordo was a long-running syndicated comic strip in 270 U.S. newspapers and the most visible ethnic comic strip of its time. With the inclusion of Spanish words, Gordo was meant to be the Mexican Li'l Abner. At the onset, the titular Gordo Salazar Lopez, the bean farmer, reflected Hollywood's regrettable stereotype of the lazy Mexican. In 1959, Arriola changed Gordo's profession to a tour guide driving Halley's Comet, a Mexican 'colectivo' (bus), slowly transforming the character. Later, Arriola took his first trip to Mexico where he immersed himself in Mexican culture and modernist art, influencing how he would draw the strip.
Depicting Mexico and Modernism offers the opportunity to look at the visually stunning Gordo and see firsthand Arriola's development as a modernist Mexican-American artist who used the comics page to celebrate and share his Mexican heritage with American readers.
Curated by Nhora Lucía Serrano, the exhibition consists of animation made by Bret Olsen, and works on loan from Mark Burstein, Jim Guida, Lalo Alcaraz, Hector D. Cantú, Carlos Castellanos, and from the collections of the Billy Ireland Cartoon Library & Museum at The Ohio State University.
Save the Date
Join us on Saturday, January 20 for a reception to celebrate the opening of this exhibition and a program featuring Lalo Alcaraz, Hector D. Cantú, Carlos Castellanos and Frederick Luis Aldama.